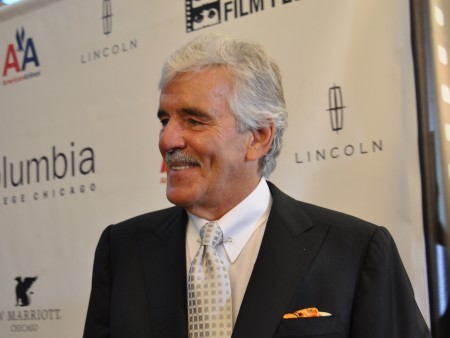 Dennis Farina was a former Chicago police officer who turned into a successful actor. He worked primarily as a character actor whose work catapulted him into the public's eyes. This very talented cop turned actor died suddenly this morning in Scottsdale, Arizona, from a blood clot in his lung at the age of 69.
Farina first became a household name in the 1980s. He starred in the controversial crime series Crime Story. But when the series finished, his acting world consisted of playing both sides of the legal fence. He would be cast as either a cop or a hoodlum throughout his career, he had the looks to play either role very convincingly.
While his roles were usually "fairly straight" the actor showed he could "do" comedy when he took the part of Ray "Bones" Barboni opposite John Travolta in Get Shorty. He worked later as Detective Joe Fontana in the series Law & Order.
Despite his recent recognition in the 2004 to 2006 crime show Law & Order, it was his portrayal of Lt Mike Torello in the 1986 two season NBC "nostalgic" cop show, Crime Story that really started Farino off. The short series kickstarted Farina's career and helped rock and roll singer Del Shannon enjoy a renewed interest in his music because of the show's theme song, Runaway.
The 1986 show Crime Story, that made him a household name, was set in the early 1960s, the series focussed on two men — Lt. Mike Torello (Farina) and mobster Ray Luca (Anthony Denison). The two men were obsessed with defeating the other. Torello was the head of the Organised Crime Strike Force and he pursued Luca to Las Vegas as the "made" mobster went there to monitor the mob's casinos. The show featured an early 60s rock and roll soundtrack and it used the entire season to tell its storyline, versus an episodic format.
At the end of Crime Story, Farina continued to work steadily in his chosen profession garnering praise for his performances. This former cop who turned successful actor had a long and active career as a character actor. He also hosted the television reality show, Unsolved Mysteries for the 2008 season. His death by a blood clot in his lung was sudden and unexpected.
The deceased actor's publicist, Lori Dewaal, released a statement saying, "We are deeply saddened by the loss of a great actor and a wonderful man. Dennis Farina was always warm-hearted and professional, with a great sense of humor and passion for his profession. He will be greatly missed by his family, friends, and colleagues. We hope that he finds a new life where great roles are plentiful and the Cubs are always winning the pennant. We ask that the press refrain from contacting his family at this time so that they can mourn their loss together."
Dennis Farina married Patricia Farina in 1970 and the two divorced in 1980. They had three children, Dennis Jr, Michael, and Joseph. The youngest of the three, Joseph is also an actor. Farina had two granddaughters, Brianna and Olivia, and four grandsons..
The Chicago native was a lifelong Chicago Cubs fan and he played an avid fan in the 1988 revival of the stage play The Bleacher Bums which was written by and co-starred fellow Chicago actors Joe Mantegna and Dennis Franz.
The news that Dennis Farina, the cop who turned into a successful actor, has died in Scottsdale, Arizona was sudden. He is survived by his sons and grandchildren. He will be greatly missed by the entertainment industry and by his friends and family. We extend our deepest sympathy toward them all.
By Michael Smith
United Kingdom