Wells, Fargo & Company has been a leader in banking, mail delivery and passenger service since the days of the California Gold Rush. This is one of the few companies in the United States that has kept the same name since it began. It is frequently mentioned in books, television programs, and movies that are set in the 19th century. It is so much a part of American history that it has ten museums throughout the country. Four of those are in California, one each is in Pennsylvania, North Carolina, Minnesota, Arizona, Oregon, and Alaska. Much of the story has to do with the stagecoaches that bear the company name.
Route to California
Wells, Fargo & Co. was founded in New York City on March 18, 1852, by Henry Wells and William Fargo. Its purpose was to provide banking and express business service in California. With the discovery of gold just four years earlier, people were traveling by land and sea from the eastern U.S. to seek their fortunes. They needed to conduct business, do banking, and be able to send and receive mail.
The Concord Coach was designed to carry up to nine passengers on three benches. Its team of six horses was changed every 12 miles. Since it took one hour to go approximately five miles, the team was changed every two or three hours at swing stations. In addition to carrying people and luggage, the coaches also carried packages and mail in the rear boot, or back section, covered with waterproofed leather.
Overland Mail Company
The coach was considered the finest available in land transportation. It was built to travel through the plains and the mountain passes equally as well. Within five years, the company joined with other express service companies to form the Overland Mail Company. This provided a regularly scheduled, twice-a-week, mail route between St. Louis and San Francisco. Wells Fargo helped finance this and took care of surveying the route.
The president of the Overland Mail Company was John Butterfield. The St. Louis to San Francisco route, known as the "Butterfield Line," was named after him. Stagecoaches left St. Louis and traveled southwest to El Paso, on to Tucson and Los Angeles, then through California's Central Valley to the final destination of San Francisco. The total journey was 2,757 miles and took 25 days.
When the Civil War broke out in 1861, the mail company had no choice but to change the route. Instead of traveling southwest, they had to go across the Great Plains. From there, they continued through the Rocky Mountains, the Great Basin and over the Sierra Nevada Mountains to San Francisco. Passengers rode three coaches on this route. Ben Holladay's Overland Express ran from St. Louis to Salt Lake City, the Overland Mail Company went from Salt Lake City to Nevada's Virginia City, and the Pioneer Stage Line ran from Virginia City to California.
Wells Fargo Buys Other Stagecoach Companies
The Pony Express was also carrying mail to California. Starting in April 1860, this service could deliver mail from St. Joseph, Missouri to Sacramento, 2,000 miles, in only 10 days. The Pony Express didn't even last two full years, but during its short run ending in October 1861, it proved that mail could consistently be delivered faster. During its last few months in operation, its Salt Lake City to California stretch was part of the Overland Mail Company run by Wells Fargo.
Owning the Overland Mail Company wasn't enough. Wells Fargo wanted to add to it so, in 1866, they bought Ben Holladay's Overland Express. With that company added to their Pioneer Stage Line and Overland Mail, they now had the largest stagecoach company in the world.
The coaches carried miners to new sites to search for gold. They needed drivers who were skilled at handling horses through the treacherous mountain paths of the Rockies, since Colorado, Montana and Idaho had mining camps that needed the services of Wells Fargo.
The Golden Spike and the Modern Era
Wells Fargo overland stage routes were no longer a necessity once the Transcontinental Railroad was completed. The Golden Spike was hammered in place in 1869 at Promontory, Utah, joining the railroad together. The railroad didn't go everywhere though and the stagecoaches were still needed for mail delivery up through the early 20th century.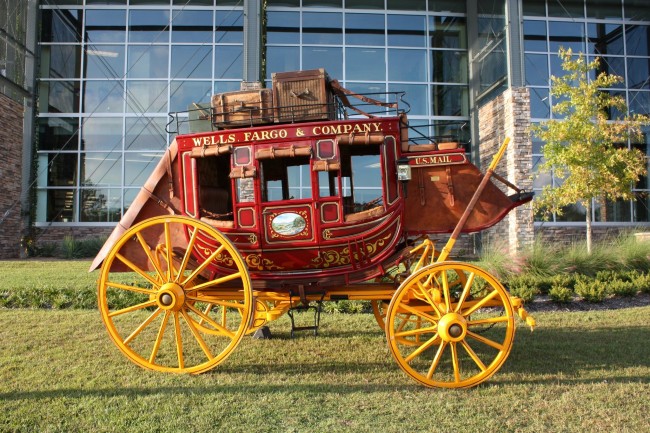 Today, some of the original stagecoaches have been restored and are on display in various Wells Fargo museums. Historically accurate replicas also exist for special events throughout the country. This weekend, September 20-22, coaches are on display in Washington, D.C. and California; in parades in Washington, Texas, California, and New York; available for rides in Virginia, Washington and New York. Please check the link below of stagecoach scheduled appearances to see which town the legendary coach will be rolling into next.
Written by: Cynthia Collins
Sources:
Wells Fargo Stagecoach