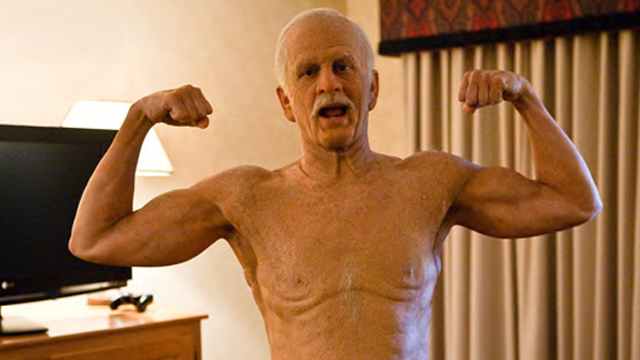 Many movie fans are familiar with Johnny Knoxville and his shenanigans from the Jackass movies but what newer fans don't realize is that the Jackass TV show that aired before all the movies had more than just pain and self harm, it had pranks. The pranks I'm talking about are the pranks against unsuspecting victims. Someone in a gorilla suit would jump out of a tree at night and run towards random people filling up at a gas station. The biggest element that made if funny was the unsuspecting victims, the detail in the joke. The jackass movies stepped away from such humor for the pure hilarity of self harm but in the new movie Bad Grandpa Johnny Knoxville returns to his basics for some old-fashion fun.
Irving Zisman is a character that Johnny Knoxville has been playing for many years, that is to say that the ideas behind Bad Grandpa had been forming for years. "Paramount approached us eight years ago, and I didn't really see it then," said Johnny Knoxville.  "I didn't have a lot of faith in it then. And in 2008, we were developing some films and ("Bad Grandpa"), we thought, if we were gonna give it a crack, how would we do it?"
This movie is a step away from past Jackass movies because it has a real narrative, there is an actual story taking place. The idea for the narrative is similar to an old 1970's film "Paper Moon" in which a man travels across the U.S. to take his possible daughter to her aunt's house and the two bond in the process.
Johnny Knoxville said that during 2011 a lot of time was spent on the idea of Bad Grandpa, "we wrote for a solid year and took it to the studio." Shooting for the movie took 60 days over 10 months. "It was a crazy idea to do a whole movie based on pranks, with an 8-year-old who has time constraints." This movie is something Johnny Knoxville would describe as, "a really ambitious idea."
The idea of pulling pranks on unsuspecting victims is a risky concept. Johnny Knoxville has been doing this for so long he has a good indicator of when things are become too dangerous. "So, we're sharing a [fake] cigarette and drinking together at this hot dog stand on Vine and Selma, and this guy watching us got really hot." Johnny Knoxville continues by saying, "I'm pretty good at reading people and good at getting them to that boiling point, and then taking them down again, but this guy was going to punch me. I have no doubt. And I didn't want to get punched in front of a kid!"
If you are a Jackass fan that enjoyed the TV show then you may enjoy Bad Grandpa for the way it brings back the basic comedy elements that originally propelled the show into stardom.  Bad Grandpa is already aiming in most theaters. If seeing Johnny Knoxville return to the basics is something you'd like to see, go give this film a chance. Maybe don't bring your kids though.
Written By: Garrett Jutte