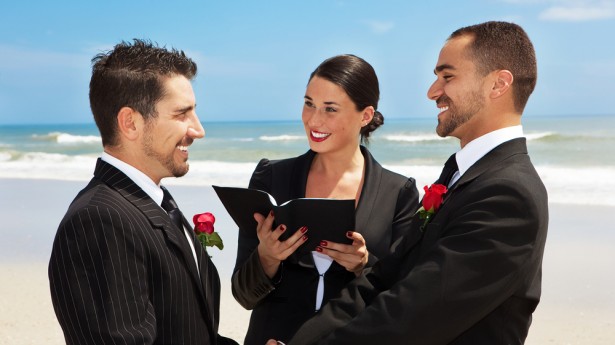 The Governor of Hawaii, Neil Abercrombie, legalized same-sex marriage today in Hawaii. He did this in a private ceremony near Waikiki. Hawaii becomes the 15th state to recognize couples of the same-sex and their ability to have equal rights, under the law for the institution of marriage. Abercrombie signed the bill Wednesday, November 13th after a special session of the legislature.
It's been more than 20 years in the making. Weddings can take place beginning December 2nd. Hawaii followed Illinois, who issued the law a week ago and will be signed later this month.The senate approved it and sent it to the house, where citizens for or against were heard. Roughly 24,000 written statements were given and about 56 hours of public testimony was also noted.
Opponents of same-sex marriage seem to be concerned about being forced into something which makes them uncomfortable. They don't want to be forced to celebrate same-sex marriage, nor do they want to be happy for someone doing something they disprove of. Exemptions were added on to the bill, making everyone happy to a certain degree. Immunity will be granted in the legal sense when they (the opposed) refuse service of goods and services, even non-profits.
The marriage is available with exemptions to please the homophobic and the religious groups. The House passed the bill with these exemptions and then the Senate accepted it. In the end a compromise was given in a broad religious scope, but the freedom is there to marry. A victory was made for the same-sex couples wishing to be joined by marriage.
Tourism for Hawaii is expected to increase as they say aloha to the gay couples. Possibly to the tune of $217 million extra dollars could be had over three years time. The National Organization for Marriage is disappointed by this legislation, according to Brian Brown, the president, citing the lawmakers fault.
Abercrombie signed the bill to legalize same-sex marriage in Hawaii at a private ceremony in the Convention Center. He noted his enthusiasm in signing this bill for the equality of same-sex couples and protection of religion among those opposed. President Barack Obama praised the passage of this legislation. "I've always been proud to have been born in Hawaii, and today's vote makes me even prouder," Obama said.
The bill to legalize same-sex marriage in Hawaii passed with 19 in favor and four opposed. Many lawmakers urged the public to heal any division and be a community, united. One Republican said government should not legislate marriage.
The US Supreme Court earlier this year voted that the Defense of Marriage Act of 1996, parts of it any way, were unconstitutional. Abercrombie called this special session so same-sex couples could obtain federal benefits like every other married couple in America.
Just how many benefits do same-sex couples miss out on when not allowed to marry, and have the legal piece of paper stating their union is recognized by others?
One thousand and one hundred benefits is what they miss out on because they can't legally marry. The 1996 Defense of Marriage Act didn't allow for Federal benefits for couples outside of the traditional marriage. This is why the Supreme Court saw it differently. The highest court in America changed parts of a previous law and the states are following suit. Public support has been growing since last year as they listen to the Supreme Court and the trends of the nation. Hawaii's Governor Neil Abercrombie legalized same-sex marriage, will more states continue this trend and give benefits to these couples?
Written by Kim Troike