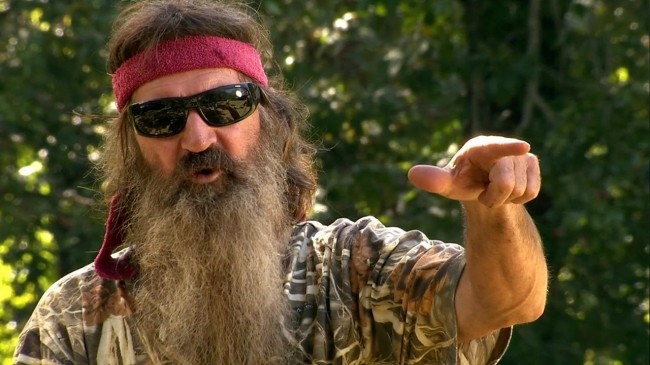 Will Duck Dynasty still keep quacking minus Phil Robertson? Not a chance, said A & E, who invited Phil back. Entertainment Weekly reported that on Jan. 15, A & E will feature scenes that include the star, Phil Robertson. This reverse decision came after Robertson family co-stars told the network that they would not be able to move forward without their patriarch, Phil Robertson, in the lead position.
A & E suspended Robertson over his declarations that homosexuality was a sin and that it was incomprehensible how a man could desire another man over the beauty of a woman. After a sharp backlash from the gay community, Phil explained that he would not treat those who differed from him with disrespect, as shown in the video below:

Was the suspension of Phil Robertson from Duck Dynasty a show to get more publicity to the already hugely popular series, or a "fake" set up?  No proof has been issued to say for sure. Yet one fact is certain: the Robertson family made it clear that the show would not go on without Phil behind the steering wheel. They credited Phil for the show's success, and defended their Christian beliefs.
The Duck Dynasty family has staunchly stood by Phil as a man of faith who would not intentionally arouse any kind of hatred towards anyone due to his beliefs in this Biblical commandment: "Love the Lord your God with all your heart" and "Love your neighbor as yourself." The family told the media that they were deeply concerned that Phil had been banned from the show for openly opposing gay rights, even though everyone has a right to freedom of speech.
Entertainment Weekly contacted sources from the A & E network who stated that they hoped the hype over the issue would die down, and business could resume after the first of the year. Negotiations had ended; the show will continue, said A & E publicity officers.
The facts about the show's success speak for themselves. Duck Dynasty is a partially scripted reality show that has become the most popular cable reality show in history. It began in March 2012 and the viewership has climbed from 1.8 million of the Season One opening to an astonishing 11.7 million for the fourth season's debut in March 2012 — a number that outdid the 10.3 million who watched the finale of the Breaking Bad series this past September.
The Duck Dynasty cast typically makes about $200,000 per episode and gains even more riches from merchandise sales and speaking fees. The catalyst for the wealthy "dynasty" is a realistic duck caller called the Duck Commander, founded by Phil himself. It is a novelty to find a duck hunter turning into a television star, and that "wow" appeal is part of why Duck Dynasty has made such a hit.
Minus Phil Robertson, Duck Dynasty could still keep quacking, but there is not a chance that the family would continue the show without him.
The men in the Duck Dynasty cast sport long beards and camouflaged clothing, and have fascinated and brought laughter into homes everywhere. They have demonstrated what it's like to shoot squirrels and plenty of other creatures while arguing and bantering. Their lovely wives and daughters grace the screens. It's hard not to like them.
Lietenant Governor of Louisiana Jay Dardenne is in charge of bolstering tourism in the state.  When A & E "suspended" Phil after the alleged accusation of his words comparing "homosexuality to bestiality,"  Dardenne wrote to the cast requesting to seek other network options just in case A & E pronounced the elimination of the program.
Dardenne has gained a reputation for putting Louisiana on the map as the third highest television and motion picture producer in the county next to California and New York. He accomplished this feat as a senator when he wrote the Louisiana Motion Picture Tax Incentive Act.
He asserted that Duck Dynasty attracted large numbers of visitors and investors since its debut, and gave the cast credit for their positive impact on Louisiana's economy, but he made it clear that he was not aligning himself with the personal views of Phil Robertson.
"Their show draws tens of millions of viewers each year, reaching an audience eager to visit Sportsman's Paradise."
Louisiana's tourist industry now attracts one in 10 jobs in the state, the highest level since the state started recording statistics of employment.
2014 will bring the successful Duck Dynasty brand to its fourth season, which is projected to still average a quacking 14.6 million loyal fans not minus the DVR playback. Although it's unknown whether a fifth season will follow, one fact is certain: The show will not go on without Phil Robertson.
By Danelle Cheney