At the request of the European Food Regulators a review was conducted on a class of popular insecticide that has been linked to the death of bees. It is being claimed that the insecticide in question "may affect the developing human nervous system" and as such can be considered a threat to young and growing children as well.
Last year a Japanese study had similar concerns. Many agricultural and consumer products make use of the popular insecticide Imidacloprid. The German company Bayer Advanced is responsible for selling products such as Fruit, Citus & Vegetable Insect Control which uses imidalcoprid as a key ingredient. Bayer Advanced products can be found internationally. One popular store that sells their products is Home Depot.
Bayer CropScience disagrees with the current public opinion that says such insecticides are harmful to children. As a result the Bayer stock fell slightly today. European experts have decided that the residue levels of such insecticides should be lowered on food crops as a safety measure for the public. It is not fully understood how much of a problem these insecticides are but experts know that more research is necessary.
European regulators are putting a limited ban on the nicotine-derived class of pesticide. These neonicotinoids, imidaclorid and acetamprid, are banned partly due to the fact that large deaths of bees were noticed back in 2006 in North America, although nothing was done then because sufficient evidence was necessary before taking action. Such pesticides could be responsible for other problems because they are used on tomatoes, oranges, grapes, dogs, cats and more. Bayer has commented on such bee deaths claiming that it is not due to the insecticide but to a parasite known as varroa mite.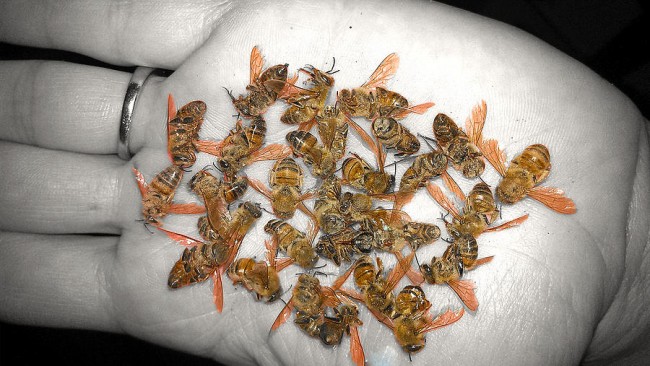 According to a study done on rats, results shows that the acetamprid caused the rats to lose weight, experience heightened reactions to startling sounds, and exhibit overall reduced survival. The European Food Safety Authority has declared that imidacloprid and acetamprid have the ability to influence functions associated with learning and memory.
Back in October the Proceedings of the National Academy of Sciences journal examined the neonicotinods Bayer is responsible for producing. According to the article the neonicotinods "adversely affect the insect immune response and promotes replication of a viral pathogen in honey bees bearing covert infections." Bayer will be influenced by whatever decision the European Union agrees upon however, it will likely take months before any action is set into motion.
The bigger picture here is the risk such insecticides could have on the populace if they really are damaging to such important brain functions. Bayer is responsible for insecticides that are used when growing crops. Which means that if these crops are being negatively affected on some level, those that eat them are also being negatively affected. The biggest concern is the children that consume such food. More research is necessary but Bayer could legitimately posing a possible danger to bees needed to pollinate crops as well as children who consume such products.
By Garrett Jutte
Sources
Channel News Asia
New York Times
Mail Online
The Independent