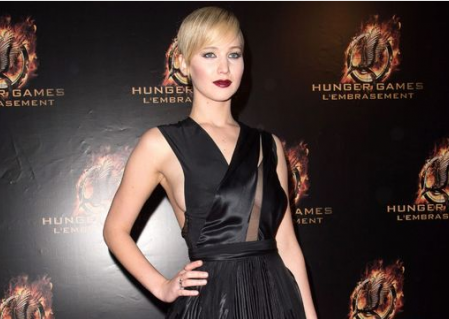 In the fight for AP entertainer of the year, Jennifer Lawrence beat Miley Cyrus for the honor and went on to be named sexiest celebrity of 2013 it's a case of "class beats crass." The battle between the 21 year-old singer and the 23 year-old award winning actress was close, but, in the end "girl-next-door" Lawrence won the crown.
The Hunger Games star narrowly took the lead over the Wrecking Ball singer to win by just one vote in The Associated Press' yearly contest based on newspaper, broadcast members and subscribers surveys for the award. A total of 70 ballots were used by AP consumers to vote on who they felt made the most significant cultural changes as well as influences in entertainment over the year.
While the award sounds impressive, Jennifer won with a grand total of 15 votes and Cyrus came second with 14, the amount of votes make no difference to the impact of the award. Amazingly, the third place spot for Entertainer of the year went not to an individual, but, to a company. Netflix came to a very close third place with 13 votes for its influence on changing the face of television programs.
Jennifer Lawrence beating out Miley Cyrus as AP Entertainer of the Year and sexiest celebrity seems to show that nice wins out over naughty or class beats crass. Lawrence is an award winning performer who has a natural bubbly, yet, down to earth feel. Her humor is spontaneous and though it sometimes shocks, it rarely offends.
Cyrus, on the other hand, has made her career changing move from the Disney Hannah Montana television persona to a twerking, naked sexual innuendo one that shocks and offends. She has outraged former fans of the G rated performer by alluding openly to sex and drugs in her performances as well as her music. Cyrus is also an award winning entertainer, but, with her determination to shock and offend, she could never be mistaken for the girl-next-door.
With all of Miley's focus on sexuality in her music, videos, and live performances, it must really frustrate the young performer that she lost out twice to "good girl" Jennifer Lawrence. The Oscar winning actress also scooped the sexiest celebrity award along with fellow thespian Ryan Gosling.
English website Digital Spy held a "year-end" sexiest celebrity poll and Lawrence came in as number one. Second place went to Ashton Kutcher's latest love interest, Mila Kunis. Third, fourth and fifth went to Scarlett Johansson, Nicole Scherzinger and Michelle Keegan respectively. Jennifer shared the top honor with Hollywood heart throb and cereal hater Ryan Gosling.
Gosling beat out Tom Daley, David Beckham, Channing Tatum and Benedict Cumberbatch; who placed second, third, fourth and fifth respectively.
It should come as no real surprise that Jennifer Lawrence won both contests. Even Hollywood legend Jack Nicholson was enamoured of the Catching Fire actress when they met. During Lawrence's backstage interview at the Oscars, Nicholson did an "interview bomb" and Jennifer was overjoyed and overawed by the attention.
Later, Jack, who is a lothario of legendary proportions, sent Jennifer a bottle of Crystal, flowers and a note that said Nicholson was missing her already. The Hollywood legend is not the only person bowled over by Jennifer Lawrence. Her beating Miley Cyrus for AP Entertainer of the Year and winning the sexiest celebrity of 2013 indicates that the "girl-next-door" will always be more popular than the "bad girls." In other words "class beats crass."
By Michael Smith
United Kingdom
Sources: