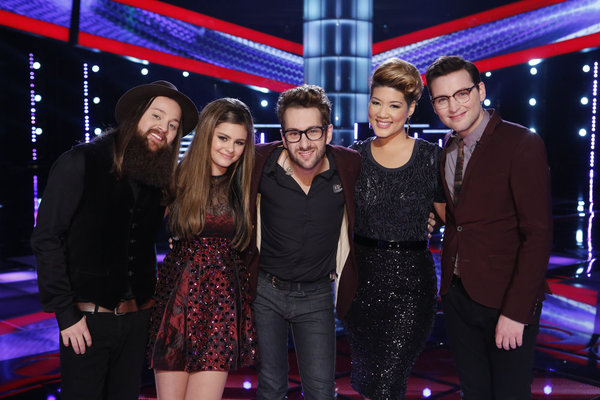 The Voice tonight in the episode called Live Eliminations will say goodbye to two of the Top 6, the 6 competitors who have made it to this point in the season. They are Will Champlin, Cole Vosburg, Tessanne Chin, James Wolpert, Jacquie Lee, and Matthew Schuler.
Towards the last part of this hour-long episode of The Voice, we will learn who the two competitors are who received the fewest amount of votes from America. One of them will be "Instantly Saved" by the tweets of you, America, while the other one will be sent home. Which five will carry on to next week's episode of The Voice, and which of the remaining 6 will get sent home?
The host of The Voice, Carson Daly, introduced the Top 6 performers –who stood with him on stage — and their coaches/mentors at the start of the episode. The coaches/mentors looked back at and recapped the extraordinary performances that each of the 6 gave last night. They all are very talented singers, and deserve to carry on. It will be sad to see any of them go. Carson said that Kelly Clarkson will  perform tonight, as will Blake Shelton!
Carson  next introduced Kelly Clarkson singing "Underneath the Tree,"off of her new Christmas album. She was wearing a festive, sparkly short red dress, and the Christmas-inspired song really was a great way to kick off The Voice tonight. The audience waved their arms in the air, and Kelly had "elves" deliver presents to some lucky people in the audience, and — even one to Blake Shelton!
Carson told her she's looking terrific, and Kelly mentioned that she's in her second trimester with her baby. December 11 will be Kelly's Christmas Special on NBC, according to Carson.
After break, Carson asked Adam Levine how will he pull off not sending any of his team members home tonight. Adam: "I will try to mobilize my Tweeting Troops to make sure none of them gets sent home (I'm paraphrasing)."
Carson asked the same thing to Christina, and she answered the same as Adam, adding "I have the greatest fans."
Blake about the only remaining member of his team, Cole Vosbury): "It only takes one to win. I truly, in my heart, believe that." Will Cole make it through for yet another week? We'll soon find out!
Carson: "Here's Jacquie, Tessanne, and Matthew singing 'You've Got the Love.'"
The three performers, IMHO, did an awesome job singing this song. I think that they all have a lock on moving on tonight to next week. After that,  who can tell? The audience clapped loudly and enthusiastically after they finished singing.
Carson: "I have the name of the first person America saved who will move on. America saved — from Team Christina — Jacquie Lee! Congratulations! You're the first to move on from Team Christina! The rest of you are still at risk of being eliminated. When we come back, Blake Shelton, featuring Xenia, will be singing 'Silver Bells.'"
Blake Shelton and Xenia did a great job of continuing the Christmasy feeling of this episode that Kelly Clarkson began, when she sang "Underneath the Tree." Blake's rendition of this holiday classic was spot-on, excellent, and Xenia, who was a finalist on The Voice its first season, was also fantastic. I had not started watching the Voice at that time, but Xenia has a very beautiful, melodic voice. I can easily tell why she was such a success on the show.
Next, Carson introduced The Voice Confessional. First, the remaining competitors and the coaches were asked what they would be if they hadn't decided to be singers –Christina said she'd be a teacher. Blake said he hoped that she would be the kind to slap him on the back of the hand with a ruler — or better yet, "my bare behind." Kinky, Blake….
Carson: "Moving on, I have the name of the next artist who is moving on to next week's Semi-Finals. America saved — Cole Vosbury!" This is somewhat of a surprise to me — I really like Cole, and I think he's a great singer, but Jacquie Lee was saved already in this episode of The Voice.
Just guessing, I'd say that Matthew Schuler and Tessanne Chin will be saved. If I'm right, that would leave James Wolpert and Will Champlin, both excellent singers, as the last two who received the lowest amount of votes — and, one of them would be "Instantly Saved" by America, while one would be sent home.
Carson: "Next up, singing on The Voice, will be Cole Vosbury, Will Champlin, and James Wolpert. Here they are with this song, 'More Than Words.'" It was an incredible acoustic version, with James Wolpert hitting some uber high notes. It was a very cool performance. Will and Cole were terrific, as well — their voices blended together seamlessly as they sang. Cole and Will hit some pretty high notes, also — Cole has a pretty impressive vocal range, as does Will. The audience erupted in applause.
Carson: "I enjoyed that way more than I'd care to admit on live television. In my hand is the next artist who is in the Top Five. America saved — from Team Adam — Tessanne Chin! Congratulations, Tessanne! Meanwhile, at center stage, three artists who are still at risk." We will learn their fates right after the next commercial break!
Carson: "We are back with the 'Live Eliminations' on The Voice!" Carson said that, before he announces who will be the last person saved, the Top 6 will perform a Christmas song. They sang "O, Holy Night." It was a beautiful, amazing performance!Jacquie Lee, Matthew Schuler, Will Champlin, Tessanne Chin, Cole Vosbury, and James Wolpert sang the heck out of the song!
Carson: "I have the name of the next person advancing to the Semi-Finals. America saved — Will Champlin!"
That leaves Matthew Schuler and James Wolpert — both of them are so, so amazing! America will tweet for their favorite of these two — they are both so awesome, neither should be sent home…but, one of them will be continuing on, and one will be sent home…after the next commercial break.
Back from break, Carson said that America still had about a minute left to tweet. Blake said, as he looked at twitter, he saw a whole lot of James.
Carson asked the same thing to Cee Lo, and Cee Lo said that he really, truly, couldn't pick. He thought it would be very close.
Carson: "I will now announce the final artist going on to the Semi-Finals next week. America 'Instantly Saved' — James Wolpert! Congratulations to James!"
That means that Matthew Schuler will not be moving on to next week's episode of The Voice! This really surprised me, as I honestly thought that Matthew was a guaranteed lock to go on to at least next week, and likely further than that. James Wolpert is an incredible singer, as well — I didn't expect him to be one of the last two onstage either, with the lowest votes from America.
What are your thoughts, America? Do you believe that Matthew Schuler should have continued on? What are your predictions as to who the ultimate winner on The Voice will be? I'm sorry that at the time I was busy writing this, there were no other videos posted at YouTube from this episode of The Voice for me to include here. Please leave your comments below, and stay tuned next week with me to watch The Voice, then come back here to read my recap/review of the show!
Written by: Douglas Cobb