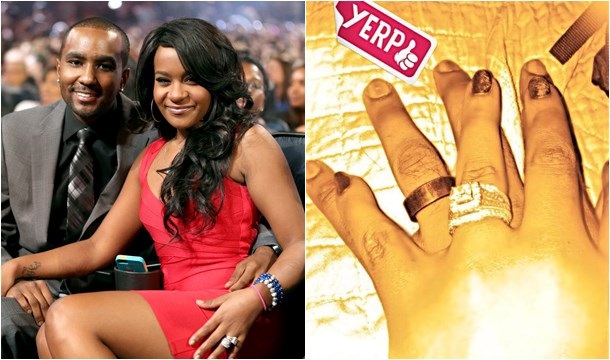 Bobbi Kristina Brown has finally married her fake brother Nick Gordon. The daughter of the late Whitney Houston took to Twitter to share the news of her newly established nuptials. Bobbi didn't share whether or not she had an actual wedding ceremony but she did include a picture of her and 24-year-old Nick's rings.
Many people had not heard of Bobbi's "at the time" fiancé, Nick Gordon, until the family's reality TV show entitled, The Houstons: On Our Own, aired on the Lifetime network. It was obvious, almost immediately, from the series that the Houston family was not really feeling the newly introduced couple. The late Houston reportedly brought Gordon into her home when he was around 12-years-old and has referred to him as her "son" from that time until she died in February 2012.
Bobbi Kris also chose social media to share the news that she and Nick had gotten engaged in July 2013. She went straight to Facebook and said that she was officially engaged. But she didn't stop there, she went on to tell her followers that Nick was neither her real brother nor her adopted brother. Bobbi Kris said her mother knew that the two of them would end up together and that people should stop judging and get with the program.
Bobbi Kristina concluded her rant by saying,
"People seriously need to stop judging my relationship. It's my own decision who I want to be with. No my relationship is not perfect. We will have rough times, just like every other couple. You may or may not agree with or even respect the relationship. Go ahead and judge me, it is my life and not yours. The decisions I make have nothing to do with you."
From the time the relationship drama began on the show to the time Bobbi Kris posted that defensive status on her page she didn't appear to be interested in any counseling or anyone else's opinion. Marriage is no joke and requires work, so for their sake hopefully they've had a change of heart and are open to professional assistance.
For now, the 20-year-old daughter of the late great Whitney Houston, Bobbi Kristina announced that she is happily married to Mr. Gordon. She posted a picture of her hand on top of Nick's so the world could see their rings. She included the hashtags #SoInLove and #HapplilyMarried.
She also shared a picture of her hand resting on her head as she smiled and her ring sparkled. In the picture's caption she wrote that she loves her husband and said to the world #GetReady. In the very next post the happy bride wrote I'm so excited, big things in store guys, we're about to change the world.
There was no immediate word whether the family supported their decision to go ahead and wed or if her father, Bobby Brown, was invited to witness their union.
While it is true that the couple has weathered many public storms and have remained together; they shouldn't try and deny that their union is out of the ordinary since the two were raised as siblings.
Bobbi Kristina announced that she has officially married her fake brother Nick Gordon. She made her declaration by way of  Twitter and wanted to make it crystal clear that the two of them are very happy to be together.
By: Cherese Jackson (Virginia)
Sources: