Kelly Osbourne ended her engagement to vegan chef, Matthew Mosshart. Osbourne accepted Mosshart's proposal last summer.  Osbourne's rep called the split "amicable," in a statement released today. Some girls cry to heal a break-up, others chill out at home and grab a pint of ice-cream. There is something better than tears and ice-cream; that would be a great friend on call. Osbourne found a new friend in Justin Bieber as the two connected and decided to hang out. There is no word on how the two connected, but it was pretty sweet of Bieber to take the British beauty under his wing and develop art with her. Okay, graffiti, but it is the thought that counts!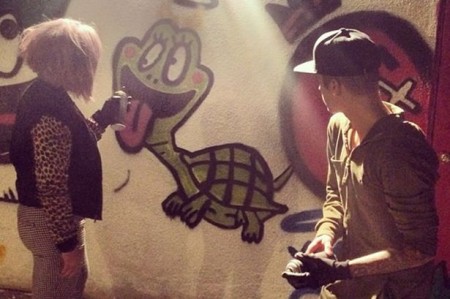 Mosshart and Osbourne meet in the summer of 2011 when the two attended Kate Moss's wedding. The couple later confirmed their relationship during the winter months. Two years later, there was a tender engagement. Previously, Osbourne had praised her fiance, stating her and Mosshart always wanted "to be together all the time." The last time the couple were spotted out together was at the December 12 amfAR Inspiration Gala in Hollywood. Osbourne shared a tweet that may be in relation to her split with her former beau. It seems the Fashion Police star is looking to start new in 2014.
Could a girl imagine being able to graffiti with one the hottest singing sensations? For Osbourne, it was the exact healing elixir needed to release stress or any bad press, stemming from her break-up. From a personal point of view, it seemed to be a pretty awesome gesture from Bieber, although, here's hoping the artwork was sprayed on with permission. The Boyfriend singer upset an Australian mayor for his artwork posted on a local hotel – the hotel defended the young star, stating they did permit and request Bieber to enter a spray-art competition.
Bieber seemingly wanted to share his passion with fellow funky artist Osbourne. The two can be seen in pictures as getting pretty creative. Osbourne snapped a pic of Bieber in front of one of his creations and the global sensation uploaded it to Instagram.
It is kind of nice to see young celebrities immersing in fun instead of controversy.
No word has been released from Mosshart regarding the break-up and at this point it seems Osbourne is going to remain pretty tight-lipped. For someone who co-hosts a show that bashes the fashion style of celebrities, Osbourne knows how cruel media coverage can be. Instead of worrying about it, the petite cutie hit the streets with her bud. Osbourne also uploaded pictures on her Instagram account with the caption "Justin is a lovely boy and have turned me into a true #Belieber tonight!"
Love him or hate him, Bieber stepped in and took any blues away, by tagging the side of a building with fun images. Peering at the pictures, there is evident talent between the street artists. Currently, it appears Bieber has no scheduled tour times for 2014. Perhaps, he has decided to take some down time. Or, maybe, he is assisting on/off again sweetie, Selena Gomez. The Latina singer recently canceled her tours for undisclosed reasons. Many stated the songstress needed a break, as she was overly stressed. Sources close to the starlet states Gomez was recently diagnosed with Lupus. We wish her well, if she is struggling with the complicated and painful condition.
For Osbourne, she is looking to a bright future. She has accomplished a lot in her young life and certainly there will be more for her to look forward to. Especially, since Bieber is seemingly willing to offer a spray can to express emotion into fantastic art. Osbourne ended her engagement and decided to hang out with Bieber hours later to release creative energy. Enjoy the possible new BFFs? Thoughts on Osbourne's break-up? Discuss in the comments.
Angelina Bouc
Sources:
MTV
USA Today
US Magazine