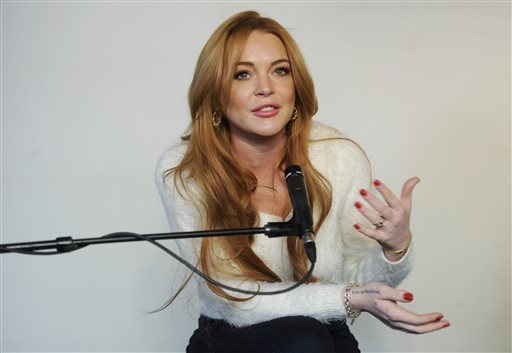 Lindsay Lohan is making a comeback in a psychological thriller which was announced at the Sundance Film Festival. The 27-year-old starlet is not only starring in the movie named Inconceivable, she is also producing it. With a five million budget, the movie is receiving strong support from Emma/Furla Film's lead executive, Randall Emmett. Reportedly, Lohan is looking to catch a big name actor, sharing she always had a penchant to work with Jessica Lange or even Juliette Lewis. The movie will begin production in March. The spring should be a big season for Lohan with her new film and the Oprah docuseries.
In addition to producing a new movie, Lohan is reportedly still in the docuseries works with television phenom, Oprah Winfrey. The documentary on Lohan is set to debut on March 9, but Oprah states Lohan has not been exactly cooperating as needed. In a clip for TV critics, Oprah stated working with Lohan has basically amounted to what "everyone warned" her about. Rumors are stemming Lohan has not been sharing scheduling information with Oprah and the "hostess with the mostest" is increasingly losing her patience.
Lohan may well be on her way to developing a movie Sundance attendees are looking to embrace, but she has to keep her scheduling promises.  Inconceivable will reportedly be a mystery thriller – and it seems more mystery is surrounding Lohan than necessary. While on the red carpet for The Butler, Oprah told E! News she had texted Lohan, but has not had consistent communications. In the short interview when the reporter inquired of Lohan, Oprah stated the reporter may know more than she did about the whereabouts of Lohan.
Hopefully, this does not become a trend for Lohan to once again start burning bridges. Her movie could draw star power, as long as she commits to the project. Directors in general are shying away from the formerly rehabbed star. Maintaining a renewed work ethic and more importantly her schedule with Oprah can truly boost her appeal with investors and the viewing public. Oprah has long been tied to successful projects and making millionaires overnight from an appearance on her show.
Reports surfaced today if Lohan does burn the Oprah bridge, she may just have a backup. A source close to the re-emerging starlet states she is in contact with former girlfriend, DJ Samantha Ronson, but the motives are not romantic. Instead, the source advises Lohan may be looking to broadcast a lesbian couple, leading to a wedding, because she believes it would be great TV and even a better check. Surprisingly,  a source who also knows Ronson states she may be interested in the concept.. Lohan has to remain committed to the promises she made others, like Oprah.
2014 should be the year for Lohan to recreate her image and start fresh. Sadly, it appears she is already treading on thin ice with the queen of network television, Oprah. The tread can lead to fall that may just produce very little interest in her Sundance announced film, Inconceivable, set for production in March. With projects on the horizon and lots of questions surrounding her docuseries with Oprah – will Lohan fulfill her commits or end up back in a repeated cycle of bad? Thoughts on the subject? Leave a comment.
Angelina Bouc
Sources:
Show Biz Spy
Star Pulse
E!