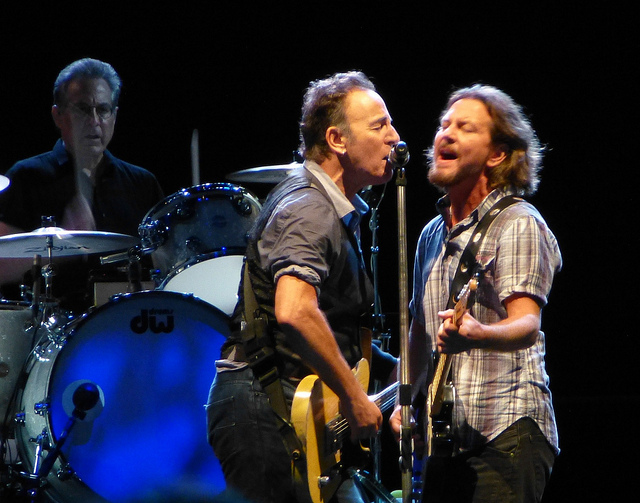 Bruce Springsteen thrilled fans across America on Monday, with the announcement of a five-week U.S. tour. American fans have been hungry for the new tour; especially after word of his Friday night performance in Australia hit the web with rave reviews. Along with the tour announcement, Springsteen's concert in Australia is the focus across social media outlets, due in part to his rendition of AC/DC's Highway to Hell. However, the Boss was not the only legendary pop icon present in Perth on Friday. Oddly, Bruce Springsteen and Eddie Vedder played in Perth on the same night and both performed AC/DC cover songs.
The Perth audience went crazy over Springsteen's performance of Highway to Hell; likewise, Vedder's version of AC/DC's Gimme a Bullet brought the crowd out of their seats. One might ask what the significance of AC/DC is to Perth, and why both Bruce Springsteen and Eddie Vedder covered the band on the same night. Well, it's really no great mystery, as the band AC/DC hails from Australia, though not specifically Perth. The fact that both played on the same night can likely be blamed on poor event scheduling. Although Springsteen and Vedder do not necessarily share a genre, both have fans that crossover from a variety of other genres and may have enjoyed seeing both performances.
There is a little more to the AC/DC story than the oversimplified explanation that they are merely an Australian band. Neither Springsteen nor Vedder would need to pander to their audience by covering songs of a hometown band gone big in order to endear them; their fans are already loyal. However, both men specifically dedicated their respective performances of the cover songs to Bon Scott, former AC/DC front man, who died in 1980. Bon Scott grew up just outside of Perth, about 20 miles away in neighboring, Freemantle. Additionally, the 34th anniversary of Scott's death is less than two weeks away, on Feb. 19, 2014. Therefore, the nod to Bon Scott was timely, though it is unclear if it was by design.
Springsteen's version of Highway to Hell involved all four of his guitarists on the solo, including former Rage Against the Machine guitarist, Tom Morello. Morello relayed his excitement to his Twitter followers after the show.
Eddie Vedder chose to perform Gimme a Bullet, and followed that up with Glen Hansard's Song of Good Hope to which the crowd responded with a standing ovation. Hansard was actually the opening act for headliner, Vedder. Additionally, the link to Springsteen is not so far removed. Incidentally, Hansard and Vedder collaborated on a cover of his song Drive all Night, even utilizing Springsteen's own saxophone player, Jake Clemons. The song was released late last year on Hansard's new album, but a portion of the proceeds go to benefit Little Kids Rock, a nonprofit organization which none other than Bruce Springsteen is heavily involved.
Further, it begs the question had their performances been scheduled a day apart, would Vedder and Hansard have been in attendance for the Boss. Alternately, might the Boss have taken in an Eddie Vedder performance? Obviously, both the former and latter are moot questions as Bruce Springsteen and Eddie Vedder played Perth on the same night, but who is to say they might not have enjoyed listening to one another cover AC/DC in an ode to Bon Scott.
By Chavala Trigg
Sources:
Rolling Stone
The West Australian
Newsday
 Little Kids Rock Org