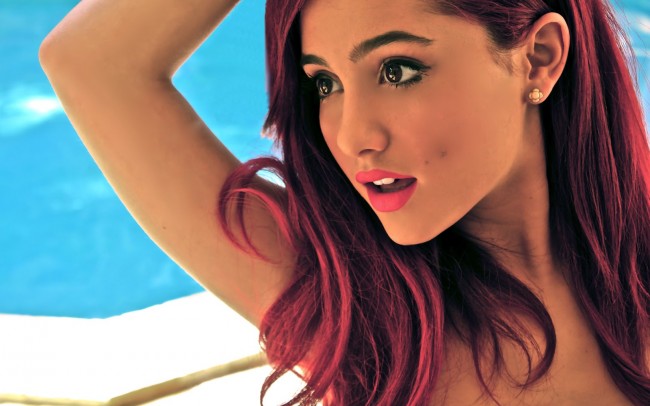 Fans of Nickelodeon star Ariana Grande might be thinking she is following in fellow star Jennette McCurdy's footsteps. Today, rumors started flying about leaked nudes but, nope, it's a prank, and Ariana Grande's reputation remains intact.
The hashtag #ArianasNudesLeaked suddenly exploded all over Twitter and quickly spread around social media. A picture of someone standing in a shower with Ariana's face was first claimed as authentic, then quickly labeled an obviously photoshopped picture, then revealed to be a a hoax. In case anybody had forgotten, tomorrow is April Fool's Day. As of this time, nobody seems to have stepped forward to claim credit for the hoax, likely saving themselves the wrath of hundreds of thousand of fans.
Depending on who you talk to, actual nude pictures would be either a blow to her career or give it a major boost. At the moment, Ariana does not necessarily need it; her career seems to be going along just fine. She first became well known to young national audiences when she co-starred in Nickelodeon's popular series Victorious. During the run she also voiced an animated fairy in the series Winx Club and was prominently featured in teen magazines.
In 2012, Victorious ended it's run and it was announced Ms. Grande would be paired with Jennette McCurdy in a new show called Sam & Cat. Jeanette had starred in one of Nickelodeon's most popular shows, iCarly, and Sam & Cat was produced as a spin-off staring vehicle for both ladies. The show seems to be doing well but has also become famous for another reason.
In early March, a series of photos of Jennette McCurdy, lounging around in various poses wearing skimpy lingerie,  appeared on the internet and quickly went viral. And, nope, unlike Ariana Grande's pranked photoshopped picture, these leaked nearly-nudes were no hoax. Rumor has it Ms. McCurdy was linked romantically to Detroit Piston basketball star Andre Drummond, and after being publicly mocked by McCurdy for his bad kissing he decided to release the provocative selfies.
Jennette McCurdy is following in a recent trend of young and famous women having nude videos or pictures of themselves leaked to the public. Some would argue many are leaking them on purpose, looking for a career boost, and considering what has happened after showing themselves naked, they could be right.
For example there is Kim Kardashian and Paris Hilton. Two of the first to have their videos leaked, Kim parlayed her instant fame into an entire series of reality shows while the relatively unknown Hilton suddenly became very well known, and has managed to stay that way for awhile. In 2010, Ms. Kardashian was named the highest paid reality-show star, earning $6 million dollars.
Other stars have found themselves, unwittingly or not, following Kim and Paris' lead. Within the last few years, movie star Blake Lively, super-model Miranda Kerr, Twilight bombshell Ashley Greene, and former Disney television star and Justin Beiber-dater Vanessa Hudgens have all found themselves in the spotlight. Some have been more shocked and distressed than others but one thing is certain: with everyone willing to photograph or be photographed- and trust ex-boyfriends to keep the pictures private- more of these types of events are sure to come.
Anyone following Ariana Grande's recent career knows that, nope, the leaked nudes are neither necessary nor likely for the rising star; it is all nothing but a prank. She has not yet spoken publicly about the sudden and probably unwanted publicity, but she may be wise just to let it fade away.
Opinion by Andrew Elfenbein
Follow Andrew on Twitter @andyelf
Sources:
GosipCop
Radar Online (racy photos)
Huffington Post