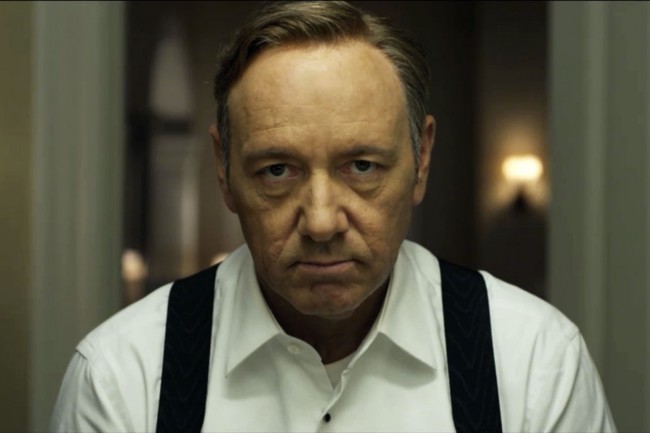 House Of Cards leading man Kevin Spacey is about to play one of the most famous politicians of the twentieth century. Kevin Spacey is set to star as the former British Prime Minister Winston Churchill in the biopic entitled Captain Of The Gate. Production company Sierra/Affinity will finance the film along StudioCanal. The low-budget drama is said to be based upon the early years of Churchill's term as Prime Minister.
Sierra/Affinity is currently on the hunt for a director for the Winston Churchill biopic starring Kevin Spacey. The screenplay was written by Ben Kaplan. Kaplan has yet to be credited for a feature-length film but has  years of experience in the subject manner having written The History Channel eight episode documentary mini-series WWII In HD as well as Vietnam In HD. The script for Captain Of The Gate is reportedly finished and ready to be filmed.
Winston Churchill was Britain's serving Prime Minister for two non-consecutive terms. Churchill's first term ran through World War II as he served from May of 1940 until July 1945.  Churchill is widely regarded as one of the greatest wartime leaders of the twentieth century. Winston Churchill was a writer, a historian, an artist and the only British Prime Minister to ever have won the Nobel Prize for literature as well as the first British person to have been made an honorary citizen of the United States. Captain Of The Gate is rumored to focus primarily on Churchill's rise to power and his position as Prime Minister throughout the second World War.
Kevin Spacey starring in a Winston Churchill biopic continues the charismatic actor's run of playing powerful dominant characters. Spacey can recently be seen headlining the second season of the Netflix political drama series House Of Cards. Spacey got his big break as an actor back in 1988 when the thespian was cast in a recurring role on the television series Wiseguy. Spacey caught big screen attention when slotted alongside acting giants Al Pacino, Alan Arkin, Jack Lemmon and Ed Harris in James Foley's adaptation of David Mamet's critically acclaimed play, Glengarry Glen Ross. The actor won his first Academy Award for his supporting performance in Bryan Singer's mind-bending The Usual Suspect in 1996. Kevin Spacey would then go onto win the Best Actor in a Leading Role Academy Award for his performance as Lester Burnham in director Sam Mendes suburban drama, American Beauty. The actor has appeared in several critically acclaimed films throughout his career including David Fincher's gritty crime thriller Seven, Curtis Hanson's noir throwback L.A. Confidential and has even played Lex Luthor on the big screen re-teaming with Bryan Singer for Superman Returns. Spacey can next be seen on the big screen reprising his jerk boss character in Horrible Bosses 2, scheduled for release on November 26th. 
While no date has been set for Captain Of The Gate, given the subject manner and pedigree attached to the project it would not be surprising to see the low-budget period piece released around Oscar season. The Kevin Spacey starring Winston Churchill biopic Captain Of The Gate has not yet announced a production start date.
By Benjamin Murray
Sources: