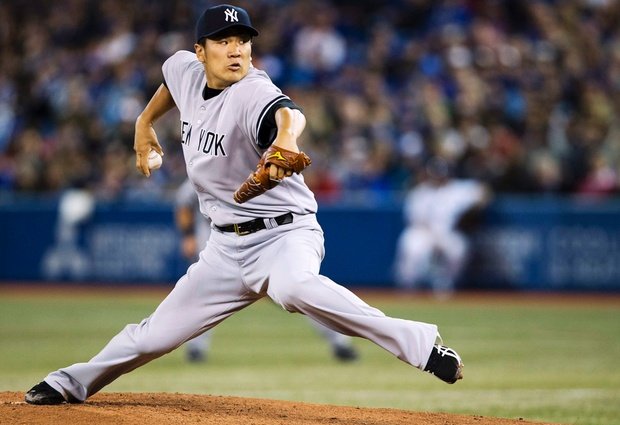 It's early, but New York Yankee fans can feel really good about what they are seeing from the Yankee pitching staff. For years, their fans have come to see and expect a Murderer's Row as far as the batting order is concerned. With Beltran, Ichiro, Ellsbury, and Jeter filling up the lineup with bold face  names that can scare a pitcher, the Yanks have gotten a huge lift from rookie second baseman Yangervis Solarte who is second on the team in hits with 19 and a .373 avg.  But as we've seen over the course of these first 16 games, the Yankees pitching is outshining the hitting, which is really required for them to get to the playoffs and make a legitimate run at the World Series.
The New York Yankees are 5-1 over their last six games giving up only 37 hits over that time span, after losing a series to Baltimore where the pitching staff got tagged for 40 hits over just three games. The Yankees pitching staff has to come up big for them to give the Yankee faithful their 28th championship. Brian Cashman picked up Masahiro Tanaka and he's coming out of the gate like a Japanese Joba Chamberlain.
In 2008, Chamberlain finished in the top 10 for AL Rookie of the Year. Jacoby Ellsbury, who now leads the Yankees in hits, actually came in third that year for the same award. The way Tanaka is pitching right now he has got to be the early favorite for AL rookie of the year along with is teammate Solarte and the Cy Young award. Tanaka has an otherworldly strikeout-to-walk ratio of 28 to 2. Yankees manager Joe Girardi said after Tanaka's dominate 10 strikeout performance against the Cubs, that he was most impressed with Tanaka being able to adjust his strategy during the game. This was Tanaka's second 10 strikeout performance in a row. The other was his "worst" outing of the year, which wasa no decision against the aforementioned Orioles. Adjustments during the game are signs of heady players and its something that is a must for Major League pitchers. The $175 million dollar pitcher from Japan knows his strengths. One of them is the split finger fastball. A nasty pitch when thrown well, Tanaka is so confident in it he is not afraid to throw it in a 3-2 count. If you can do that and be successful, your defense is going to love you.
The reigning American League player of the week, Carlos Beltran sang Tanaka's praises after the Cubs win. Remarking about the 95 mph fastball he can throw Beltran also gushed about Tanaka's splitter, Those two pitches in the hands of a heady , confident pitcher is a scary prospect for any lineup.
The other not so secret weapon in the bullpen for the New York Yankees is Michael Pineda. After an outing against the Red Sox where he gave up 4 hits in 6 innings with 7 strikeouts and was accused of doctoring the ball with Pine tar, he came back with out the unidentified goop on his hand and had almost the exact stat line but most importantly came out with the win. His strikeout to walk ratio isn't as good as Tanaka's but it is still very good at 15 strikeouts to 3 walks. When you are a new player on the New York Yankees and getting paid $175 million or are a starting pitcher in a city crying for 1 to 5 stability you are going to get the light shined on you. These Yankees pitchers are outshining the hitters because they are dominate and are giving an already above average hitting lineup a chance to win any game they play. Now the Yankees, barring an injury, can be confident that from 1 to  4 they are going to be in every game, which couldn't be said the last few years.
Hiroki Kuroda has been a solid 4 . He's 2-1 with a 3.86 era. After him is where the bullpen comes into play. Shaun Kelley has been great substituting for the injured David Robertson. This tandem isn't going to put fear into the hearts of opposing batters like the best closer in Major League history, Mariano Rivera. But because the 1-4 pitchers for the New York Yankees are outshining their hitters, there will be less stress on a rebuilding bullpen.
by Daryl McElveen
@deemacspry
Sources:
MLB.com
Bleacherreport.com