Prince Fielder Awakens for Texas: Rangers Round-up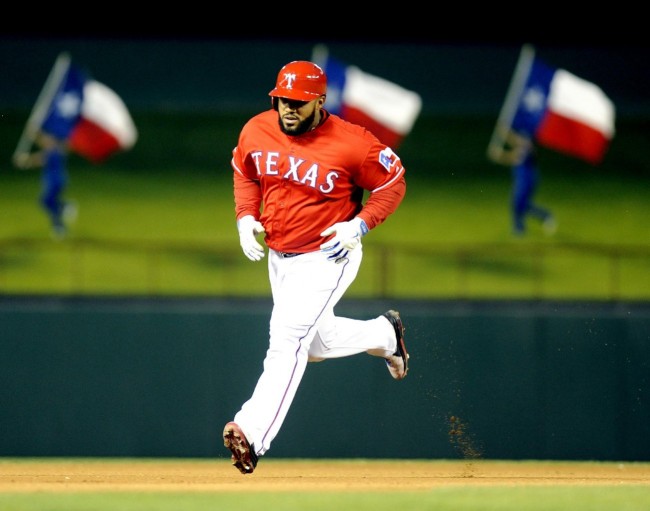 Texas Rangers first baseman Prince Fielder finally awaken from an early season slump to get his first two home runs of the year. The Rangers hope that this will jump start his season.
After beginning the first two weeks homerless, and hitting just .125, Prince Fielder went 6-18 on the week, with five runs and four RBI, to raise his average to .188. While still not an acceptable output for the slugging first baseman, it is a sign that he is moving in the right direction.
Prince Fielder was signed by the Detroit Tigers, before the 2012 season, to a contract worth in excess of $125 million. Both of his two seasons in Detroit were quite productive, hitting a combined 55 home runs in the two seasons, while adding 100+ RBI each year. However, his playoff performances were substandard by anyone's standards, and the team soured on him.
In the off-season Fielder was traded to Texas for 2B Ian Kinsler. The Texas Rangers were in need of a power bat after the free agent loses of Josh Hamilton and Nelson Cruz, and it was believed that Price Fielder would awaken the line-up with an infusion of power.
Out of the gate he struggled. Whether it was the weight of the expectations on him, or the pressure he was putting on himself, Fielder struggled to make good contact with the ball, despite having a relatively low strike out rate. He simply was not hitting the ball with authority, and was not able to shift his weight into his swings.
That changed this past week. Fielder began with a two hit game against the Mariners on Monday night, before hitting his first home run of the season on Tuesday, in the team's 5-0 victory. It was clear that a collective sigh of relief was felt when he connected on the round-tripper.
In the second game of the Rangers' series against the White Sox, the first basemen would go deep again, connecting on a solo shot, in the Tigers 6-3 victory. Interestingly enough, 3B Kevin Kouzanoff's first two home runs of the season also came during this week, and he hit home runs in the same games that Fielder did. If these two could get on track, it would make the middle of the Rangers line-up quite formidable. Prince Fielder's bat seems to be awakening and this can only boost the Texas Rangers chances of staying competitive in the American League.
Rangers Notes: Colby Lewis and Robbie Ross Jr both had up and down weeks, but in the opposite direction of each other. Lewis struggled Monday night, giving up eight hits and four runs in 5.1 innings pitched. He regrouped for Saturday, and pitched 5.1 innings again, only giving up six hits this time and one run to get the win. It was Lewis' first win in more than two years.
Ross Jr. began the week throwing 7.2 shutout innings against the Seattle Mariners. He then got hammered on Sunday, giving up seven runs (four earned) in 5.1 innings pitched. Ross gave up three runs in the fifth and sixth innings, before being replaced.
The Rangers had three different innings this past week where they gave up at least six runs. They gave up six in the sixth inning on Monday, sixth in the third inning on Wednesday, and seven in the ninth on Sunday. If those three innings are taken away, the team only gave up 13 runs in six games, and had two shutouts.
Commentary by Robert Pannier
Guardian Liberty Voice Sports Writer covering the Texas Rangers
@RobertPannier
Sources:
MLB.com
Yahoo Sports
ESPN