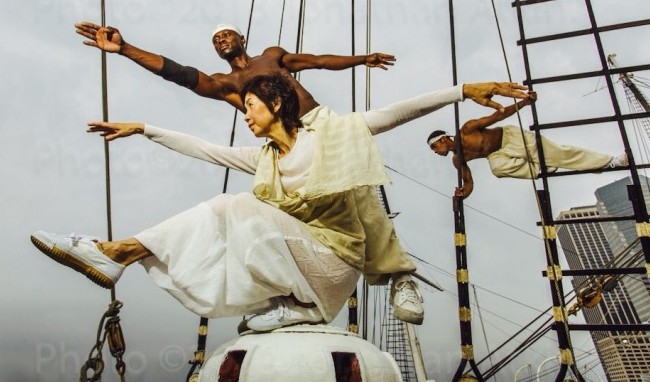 The Hero Project is an on-going photography exhibit that combines the artistry of dance with the majesty of historic ships. Each image by maritime photographer and United States Coast Guard licensed Master, Captain Jonathan Atkin, is a carefully executed tour de force of dancers in motion aboard stately vessels firmly anchored in America's maritime heritage.
The purpose of this project is to raise awareness of the often under-appreciated world of historic ships and dance. Captain Atkin's photography reflects simultaneous independence and collaboration between the two subjects. The movement of every dancer appears effortless aboard the vessels, honoring and enhancing a bygone era. From rounding Cape Horn in storm-tossed seas to serving as a U.S. Navy destroyer during the Vietnam War, these floating museums are recognized for their past accomplishments as they continue to fascinate the public.
Atkin is well-known for his artistry and detail whether his photographs are of nationally known dance companies, such as Alvin Ailey or Dance Theater of Harlem, or for the cruise line industry and commercial shipping world. His work has been featured on the covers of National Geographic's WORLD, The New York Times Travel Section, USA Today, and Smithsonian Magazine. He has had over 850 photographs published in the Arts & Leisure and Travel sections of the New York Times.
His photos have appeared on the covers of corporate and trade publications such as Marine News, Offshore Magazine, Professional Mariner, Exxon USA, Travel Weekly, Dupont Magazine, Royal Caribbean, Cunard and others. He photographed the iconic rendezvous of the "Three Queens:" the ocean liners known as the Queen Mary II, Queen Elizabeth, and Queen Victoria for Cunard as they departed New York Harbor, Jan. 13, 2011. While taking pictures from a helicopter, he braved winds up to 35 knots and single digit temperatures as fireworks lit up the night sky.
Even though he is based in New York, the ships included in this project are at various ports throughout the United States. So far, five have been photographed. A brief history of each is given in chronological order.
The image at the top of this article illustrates how Atkin uses the Hero Project photography to combine the artistry of dance with historic ships. Three dancers appear in motion aboard the 1911 four-masted barque Peking berthed at South Street Seaport Museum in New York City. Built in Hamburg, Germany for the F. Laisez Lines, this ship was one of their "Flying P Liners." She would sail from Europe with fuel and manufactured goods around Cape Horn to the West Coast of South America and return with guano, used for making fertilizer and explosives, from northern Chile.
In 1929, former Peking crew member and sail training pioneer, Captain Irving Johnson, filmed one of the voyages. As the ship rounds Cape Horn in hurricane conditions, her 17-story-high masts and her extreme length of 377.5 feet (longer than a football field) are obscured at times by the pounding waves. The film, Around Cape Horn, is still available today. Peking retired in 1933 when steamers took over the nitrate trade. For awhile, she served as a nautical school for boys in England. She was acquired by South Street Seaport Museum in 1974.
A 1933 lighthouse tender, named Lilac, carried supplies to lighthouses and maintained buoys for the U. S. Lighthouse Service and U. S. Coast Guard on the Delaware River and Delaware Bay for almost 40 years. She is the only surviving steam-powered lighthouse tender in the United States. In addition to her regular duties, she also responded to marine emergencies and disasters ranging from evacuating lighthouse keepers during winter ice conditions of 1935-36 to putting out fires of coastal tankers. After being decommissioned in 1972, she became part of a seamanship school on the Potomac River for awhile. She is now under the care of the Lilac Preservation Project, serving as a museum ship while undergoing restoration at New York's Pier 25 on the Hudson River.
The last pre-war coastal oil tanker in the U.S. is the 1938 Mary A. Whalen. She delivered fuel from the Port of New York throughout the Northeast until going out of service in 1993. She has served as a floating classroom, museum ship and cultural center since becoming the home of PortSide New York along the Brooklyn waterfront. Concerts, movies, workshops and other cultural events are held on board. PortSide received an award from the White House for recovery work following hurricane Sandy.
America's historic ships include the 1952 ocean liner SS United States designed by William Francis Gibbs for transatlantic crossings. On her maiden voyage, she set the all-time record for crossing the Atlantic with a top speed of 38 knots and still holds that record today. She became America's flagship and her passenger list frequently included actors, politicians and royalty.
As the largest and fastest ocean liner ever built in the United States, her length of 990 feet exceeded that of the Titanic by over 100 feet. She was designed to easily be converted from carrying 3,016 people (passengers and crew) to 15,000 troops. She made a total of 800 transatlantic crossings before her retirement in 1969. Even though the SS United States is not accessible to the general public, she is docked in Philadelphia at Pier 82 on the Delaware River.
The last of the five ships currently featured in this project is the Navy destroyer USS Turner Joy (DD-951). During the Vietnam War, this ship did several tours of the Pacific and was the flagship for Destroyer Squadron 13 and Destroyer Division 131. Decommissioned in 1982, she is now a museum ship and memorial in Bremerton, WA as part of Puget Sound's maritime heritage, offering tours, education programs and special events.
The dancers' styles in the photographs are as varied as the ships. Peggy Choy has toured from New York to Jakarta with her fusion of Afro-Asian style. Ze Motion has performed throughout Europe and taught dance in the U. S. and France. Together with Spydey, these three show their athleticism and strength aboard Peking. Internationally acclaimed Desmond Richardson, former principal dancer with The Alvin Ailey American Dance Theater among others, brings his interpretive style to the SS United States. Vincent Michael Lopez dances with the Spectrum Dance Company in Seattle and performed around the world with Wideman/Davis Dance. He is featured in the photos of the USS Turner Joy (DD-951).
In the Hero Project, Atkin combines photography, the artistry of dance and art, and the grace of historic ships. Each unique voice blends yet remains separate. The link to this on-going photo exhibit is listed below.
By Cynthia Collins
Copyrighted photos used by permission
Photo of SS United States: public domain
Sources:
Hero Project
Cunard: Three Queens – photography by Jonathan Atkin
SS United States
USS Turner Joy (DD-951)
Mary A. Whalen
Lilac Preservation Project
South Street Seaport Museum
E-mail interviews with Jonathan Atkin