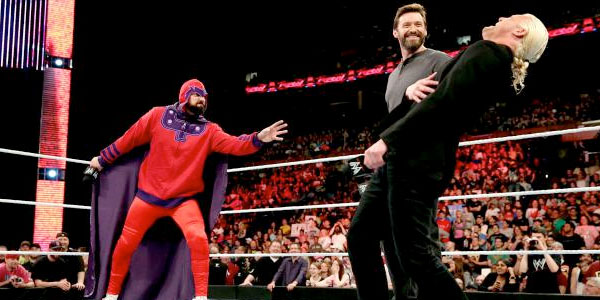 Hugh Jackman was back on Monday Night RAW to promote his new movie X-Men: Days of Future Past. Once again Hugh Jackman stars on WWE to promote a movie and has another confrontation this time with Damien Sandow. Many will remember he guest starred on the show in 2011, to promote Real Steel, and had some issues with Dolph Ziggler. Of course, WWE would not be the same without some kind of confrontation. This is what WWE  is all about in the wrestling industry.
The first time Jackman appeared as a guest star on WWE he helped to jump-start Zach Ryder's career and now he may help jump-start Ziggler's career again, with his small promotion. Monday night Jackman and Ziggler made amends, which soon followed by Sandow appearing in a costume as Magneto. The costume looked like a child had made it, and made Sandow look like a doofus, in the words of Jerry Lawler. It seems the main reason Sandow dressed up as Magneto was to taunt Jackman. He threw several jabs at Jackman, but the jokes seemed to fall flat. People seemed to be laughing more at the ridiculous outfit, than the actual commentary between Ziggler, Jackman, and Sandow.
On Twitter the segment was given mixed reviews. Some people praised the works of WWE, while others commented on changing the channel it was so horrendous. While it may have been corny with jokes falling faster than Lindsay Lohan's career, it did accomplish one thing, and that was getting WWE noticed via Twitter.

As any good WWE fan knows Sandow was eventually taken off his high horse with a nice hip toss from Jackman, and a classic Ziggler move. Sandow quickly left the ring and the star of X-Men: Days of Future Past celebrated in the ring. Some fans were disappointed that there was not a follow-up match. However, this was not the only excitement of the night as fan favorite Ric Flair returned to RAW, and made it clear he was siding with the Shield, another classic heel team. It was obvious Jackman was excited to return to WWE. Before taking care of Sandow, Jackman and Ziggler buried the hatchet, after Jackman cost him the match between him and Ryder in 2011.
The wonderful thing about Jackman returning to RAW was it brought in fans that normally do not watch wrestling. Jackman has a huge fan base and to bring him in was a smart move by the WWE. This perhaps will, lead to new fans for WWE. Considering how much Hugh Jackman seems to genuinely enjoy coming on the WWE, surely they will see him guest star more in the future. Keep in mind that WWE has hit and misses in the segment part of the show quite often, and not everyone is going to love every segment. WWE has always been about good versus evil, which plays right into the movie Jackman was promoting. Having stars appear from time to time is not only beneficial to WWE, but it is also a great way for any star to promote whatever they may be pitching at the time. It is a win-win for both sides. Perhaps next time Jackman and WWE collide, it will be Sandow having a make-up  session with Jackman and another new face trying to reach the top in WWE.
Opinion by Heather Tillman
Sources:
Washingtonpost
Dailymail
TheStar