The Museum of Contemporary Art San Diego (MCASD) in La Jolla presents Treasures of the Tamayo, Mexico City until August 31, 2014. The exhibition highlights artist, Rufino Tamayo, decorative objects from the Mexican artist's collection, and late-modernist and contemporary works acquired by the Tamayo Museum after Tamayo's death in 1991. Artists in the show include  Mark Rothko, Roberto Matta, Max Ernst, Francis Bacon, Pablo Picasso, Liliana Porter and Francisco Toledo among others.
This exhibition is a noteworthy alliance between MCASD and Museo Tamayo in Mexico City, Mexico. The two institutions trust that introducing the public to international collections on both sides of the border will promote an educational approach to contemporary history and art. As part of the exchange, Museo Tamayo is showing 15 iconic works from the MCASD museum in the Doble Negativo: De la Pintura al Objecto exhibition.
The 20th century Mexican painter-printmaker, Rufino Tamayo was a creator and  leader of the Mexican Renaissance. He, together with Mexican muralists, Jose Clemente Orozco, David Alfaro Siqueiros and Diego Rivera, generated international attention to 20th century Mexican Art.
However, while the "three muralists" were painting overtly political themes, Tamayo chose to paint intrinsic canvases that were more delicate, according to Owner-Director of Latin American Masters, William Sheehy. Tamayo first immersed himself in the techniques of artists such as French artist, Georges Braque and French Post-Impressionist, Paul Cézanne. He was also moved by the expressive intensity found in Pablo Picasso's works.
Tamayo became known for his paintings, which conceivably were desolate or expressive but also could be unusually delicate, metaphorically extravagant or a fête of music and nature. He was an image maker and his works were saturated with Mexican color and light. Tamayo was also an influential printmaker, and up until his death began to dedicate himself to sculpting lofty, patinated steel figures.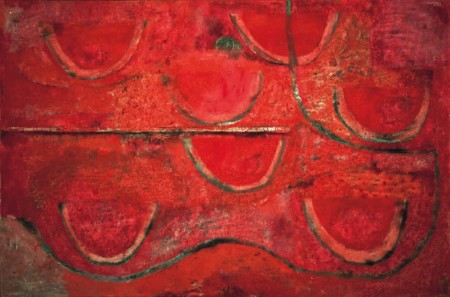 A large proponent of universality, Tamayo once stated, "Art is a means of expression that must be understood by everybody, everywhere." His own gestural, figurative-styled works were influenced by modernist developments like Surrealism, Expressionism and Cubism.
The creator drew inspiration from his understandings of his heritage, environment and history. He also commented that art "grows out of the earth, the textures of our lives, and our experience" and he demonstrated his perceptions time after time.
Moreover, Rufino Tamayo surveyed the prospects of an international language and the endurance of Mexican traditions. His paintings' distinguishing vivid colors and abstract figures exemplify Tamayo's signature amalgamation of pre-Columbian imagery and Mexican folk configurations with the modernist movements in the U.S. and Europe. He had a natural talent and ability to coalesce Modernism with the ancient works of Mexico.
Starting in the late 1960s, Tamayo embarked on a cosmopolitan approach to collecting, prompted by the many avant-garde movements he came across during his travels. Examples include large, figurative paintings by artists Francis Bacon, Pablo Picasso, and color field abstractions by Rothko. Latin American artists include animal paintings by Toledo. Rufino Tamayo assembled his art collection with the aim of establishing a museum that would foster Mexican artists and convey Mexico City into the realm of the international art world.
By Dawn Levesque
Sources:
Museum of Contemporary Art San Diego
Latin American Masters
The New York Times