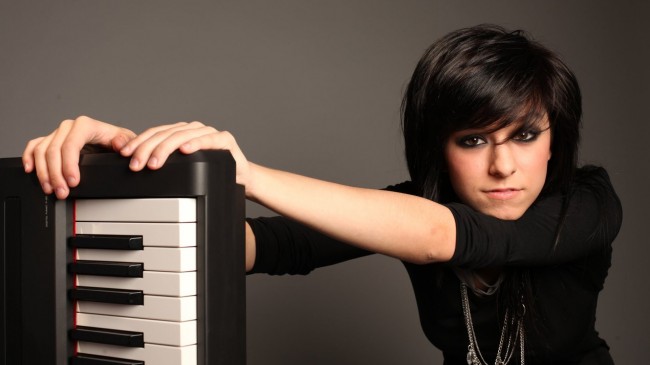 Christina Grimmie, an amazing talent that has graced the world with her presence on The Voice, has sung two hip-hop songs on the show recently that were wildly applauded. Her most recent was her own rendition of Lil Wayne's song How to Love, which was an instant hit. Her coach, Adam Lavigne, told her that she has created a new version of the song altogether and owned it. Wayne was equally floored by Grimmie's amazing performance of his hit and tweeted that he would sign her to his label. Grimmie's talent for mastering and transforming hip-hop songs is obvious; she may sign with Wayne in the future, though it is no question that her talent and nature know no bounds.
When Lavigne first approached Grimmie about singing yet another hip-hop song Grimmie was worried that it would not be as well received. However, Lavigne convinced her that she would create magic with her rendition of that song and she, thankfully for viewers, obliged. Her only concern was that she needed to find a way to outperform her last hip-hop song, Drake's Hold on We're Going Home. Fans, her coach and Wayne agreed that her concerns were void when she blew her recent performance out of the water.
Wayne's tweet showed his enthusiasm for her performance by saying that he would sign her immediately. Many fans were beside themselves with awe because she got the rapper's attention and are now wondering if she would consider a record deal. Fans of both Grimmie and Wayne tweet that the match-up would be spot on and some fans hope that even if Grimmie does not sign with Wayne, she considers creating a hip-hop album. Many fans of Grimmie believe that her version of the song was better than Wayne's. No matter whom Grimmie decides to sign with, even if it is Wayne, her encouraging aura and amazing talent will always be felt by her fans.
Grimmie's career bloomed on YouTube when it was just her, a keyboard and a camera. She has toured with Selena Gomez, performed in countless cities across America, created her own album and is now awing the world with her talent on The Voice. The talent seemingly knows no bounds and has ambitiously approached many different genres of songs with versatility and power. Grimmie has not publicly said that she is set on producing hip-hop music; in fact, she believes that is important for an artist to expand their talent and vision, be diverse and explore many different sounds. One of her main focuses is inspiring people to be happy with who they are and pursue their dreams. A video on YouTube with over 70,000 views features fans of the star speaking about how she has inspired them to be themselves.
It is no mystery that Grimmie wants to inspire people and be close to her fans. She is captivating audiences from all over the world and does not appear to be slowing down. Her ability to adapt many different genres and sounds to her unique style will help her immensely in her future career. Grimmie's future is not dependent on signing with Wayne, though that route could be brilliant. Fans are excitedly witnessing the evolution of Grimmie's talent.
Opinion by Courtney Heitter
Sources:
young money
NBC
Christina Grimmie Official