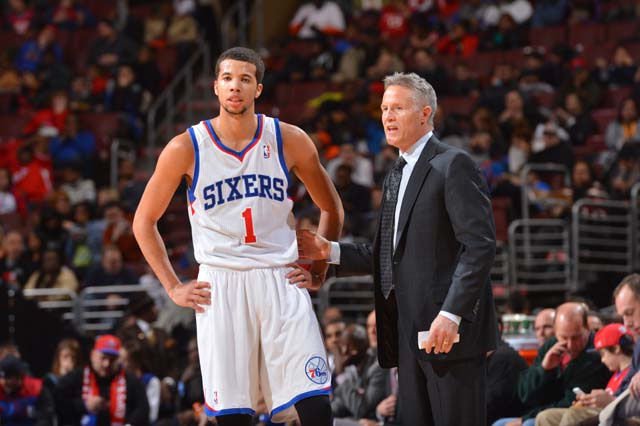 Last year, the Philadelphia 76ers had little to be proud of, with the exception of Thaddeus Young and Michael Carter-Williams. While the former was jettisoned in a questionable trade to the Minnesota Timberwolves, the latter remains the future and cornerstone of the franchise, as evidenced by his Rookie of the Year win. Unfortunately for the franchise, after undergoing shoulder surgery during the offseason, the start date for Michael Carter-Williams is in question. This revelation makes the 76ers' situation going from bad to worse.
Despite a stellar first season in the NBA, Carter-Williams played with an on again, off again shoulder injury. To fix his shoulder problem, he elected to have shoulder surgery in early May to fix the labrum on his right shoulder. The good news about the surgery is that the point guard underwent the procedure early in the offseason, which will only increase his chances of playing sooner rather than later. The bad news is that, despite early reports saying the opposite, the Rookie of the Year will not be available for the beginning of training camp. Furthermore, there is a possibility that he may not be able to participate for the entirety of camp. While Carter-Williams is not scheduled to miss any regular season games, his coach, Brett Brown, is unsure when he will return.
Last season, Carter-Williams averaged 16.7 ppg, 6.3 apg, 6.2 rpg and 1.9 spg in an average of 34.9 mpg. Since the 1950-51 season, he is the fourth player to lead all three principle statistical categories ( scoring, rebounding, and assists), joining the likes of Oscar Robertson (1960-51), Alvan Adams (1975-76) and Magic Johnson (1979-1980). Additionally, he is only the second player in 76ers' history to win the Rookie of the Year award, joining Allen Iverson.
The 2014 offseason, much like the last few seasons, has shown probable evidence of Philadelphia tanking by removing principle players this summer. This year, Philadelphia managed to remove their top player Thaddeus Young (17.9 ppg, 6 rpg and 2.1 spg) in a trade with the Minnesota Timberwolves and Cleveland Cavaliers, as participants in the Kevin Love trade. It would be one thing if Philadelphia got quality pieces in return, but instead they received point guard Alexey Shved (4 ppg and 1.1 apg), along with center Luc Mbah a Moute (3.5 ppg and 2.3 rpg), both of whom are the furthest thing from high quality talent. Dumping Young follows another questionable trade near the trade deadline of last season, when the team dispatched their second-most productive player, Evan Turner (17.4 ppg, 6 rpg, 3.7 apg and 1 spg).
Without Young and Turner, Carter-Williams and the, hopefully, recovered Nerlens Noel, who did not play a game in his rookie season, are the only pluses to their young roster. This is what will make things difficult, particularly at the start of the season. Carter-Williams will likely be the focus of the squad this season. Not having him available for camp will prove to be troublesome. As such, with the exception of working out new guys on the squad, it will be difficult to organize their line of attack without their key player. In turn, their start of the season will likely be more difficult than anticipated, unless Carter-Williams returns to the fold earlier than later.
Without the Rookie of the Year, not only will they lose the player that will likely be their top scorer, but they will be without one of the top rebounders, assist-men, and defenders on the team. It will be near impossible to prepare for the season without him, let alone it being uncertain how long it will take before the point guard sheds his rust and regaining his comfort level, coming off of his shoulder injury. Realistically, while Carter-Williams is young, it is unlikely that he will be fully recovered ,when he takes his first steps onto the hardwood this coming season.
Additionally, Carter-Williams has high expectations coming into his rookie season. His numbers for his inaugural NBA season were impressive, but in order to continue along the path of a future All-Star, he will need to improve his game. First and foremost, he needs to improve his ball handling skills significantly, especially as a point guard. 3.5 turnovers per contest is something that will have to be eradicated. If he is to be the principal ball handler, which he will be, he needs to learn to take care of the ball, let alone finding his teammates shots.
The second area in which he needs to improve is his shooting. Typically, a point guard is not the player that is expected to be the top scorer. However, on a team with little depth, like Philadelphia, Carter-Williams is expected to be that player. Not only should his 16.7 ppg average increase, but he will need to increase his efficiency, where he was only a 40.5 percent shooter last season. Part of his improvement will be concentrating more focus on his shot. More importantly though, the guard needs to evaluate his shot selection. Last season, his interior game was solid at almost 50 percent shooting within five feet of the basket. As he went further out from the basket, his percentage dropped dramatically, not rising above the 37 percent mark and a horrible 29 percent from the arc.
Finally, despite his age, Carter-Williams needs to establish himself as the leader of the team. While he has aged veterans such as Jason Richardson (10.5 ppg, 3.8 rpg and 1.2 spg), if Carter-Williams is to be the future of the team, he needs to lead his squad. This is where his lack of presence will be missed most during training camp. His teammates need to experience playing with their most potent player. Without him, it is likely that their play will be in complete disarray come the start of the season.
As great as Carter-Williams proved to be in his rookie season, he has many areas to improve. With the start date in question for Michael Carter-Williams, it is likely that not only will his development stall, his team's focus and organization will as well. As a result, if the 76ers' hopes were not bad enough, they will certainly worsen without its top player available.
Commentary by Simon Mounsey
Sources:
Photo Courtesy of Philadelphia 76ers – License
Yahoo
Philadelphia 76ers
Vavel
Sports Injury
Bleacher Report