Jazz Jennings, the new face of transgender youth, has co-authored an illustrated memoir for children. According to the teen the book is for any child that feels like they do not fit in, not just kids in the LGBTQ community. The book chronicles Jazz's early years beginning with her gender dysphoria diagnosis to the many struggles she dealt with in school. The book, I Am Jazz was released September 4, 2014 and has already received many positive reviews.
Jazz was born a male and by 15-months-old had already begun leaning toward a feminine side. Although some argue that this is not possible, by the age of two she had began to say she was a girl. Jazz, at the tender age of five, was one of the youngest people ever to be diagnosed with gender dysphoria; a constant unease with the characteristics of a person's gender along with a strong identification with the opposite gender.
Once diagnosed, accompanied by her family's support, this young child began transitioning from a boy to a girl while she was still in kindergarten. Jazz was teased but maintained her positive outlook on life and did not allow anyone to alter her confidence or gender identity.
Jazz has a sister and twin brothers. Her sister, Ari, is four years her senior and her brothers, Griffen and Sander, are two years older than she is. This young trooper is the daughter of Jeanette and Greg, who have been huge supporters of hers since the beginning. Jazz and her family began filming a series of YouTube videos when she was only six-years-old about growing up as a transgender child. Her parents said:
We are in 100 percent agreement as to how we should raise Jazz. We don't encourage, we support. And we just keep listening to what she tells us. We say things like, 'You're special. God made you special' because there aren't very many little girls out there that have a penis.
The new face of transgender youth has been covered on shows such as 20/20 and the Rosie O'Donnell Show.  While sharing with Barbara Walters the transgender child said although she is attracted to boys, she is worried about dating due to her condition. Jazz has also stated publicly that she desires to become a mother in the near future.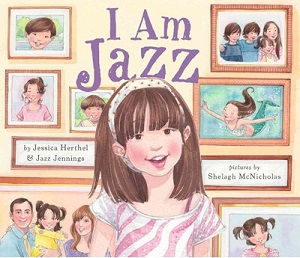 While the country still struggles with accommodating transgender students in educational arenas, Jazz has become a strong advocate for youth with her diagnosis. At the young age of 14, this teen has been honored as one of Time magazine's 25 Most Influential Teens of 2014 and has been awarded the Colin Higgins Youth Courage Award for her helping to enlighten and educate others about the LGBTQ experience.
Jazz's parents admit the transition has not been easy but they fully accept their son as their daughter. Jeanette has started a foundation called TransKids Purple Rainbow in order to help other families who are dealing with similar situations. She said:
I mourn the loss of the idea of my son. I see pictures and the video, and that child is gone. But there's a wonderful person now that's with us.
Now as the teen embraces puberty she will undergo hormone therapy to prevent the growth of body hair and the development of other male characteristics. Then she will need estrogen therapy which will allow her body to gain body fat around her hips and grow breasts. Jazz's mother said the treatments are very expensive ranging about $18,000 a year.  However, before she can have sex reassignment surgery Jazz will need to wait until she is 18, which is the age of consent.
The new face of transgender youth has co-authored an illustrated memoir for children. Jazz said the book was written for all children who experience any form of rejection, not just within the LGBTQ community. I Am Jazz journals the early years of Jazz Jennings and the struggles she encountered along with the triumphs she experienced. Her journey can also be witnessed through a series of videos on her YouTube channel also titled, I Am Jazz.
By: Cherese Jackson (Virginia)
Sources:
Yahoo
Washington Examiner
Daily Mail