The Tonight Show this Friday, April 10, had on some of the week's best guests. Host Jimmy Fallon welcomed his guests, actor and comedian Kevin James, who stars in Paul Blart Mall Cop 2, and actress Vanessa Hudgens. Fallon was in a skit with Kevin James, called Last Call Saloon. The third guest on the Tonight Show was the amazing magician, Dan White. Fallon also did his weekly "Thank You Notes" comedy segment.
Jimmy Fallon walked onto the stage to a standing ovation, and he welcomed the studio audience. Then, he did his monologue, joking about news items like "Hillary Clinton will announce that she is running for president on noon on Sunday." He also joked about presidential candidate, Rand Paul. He said that "He was universally known as being short-tempered and testy." Fallon then continued on, with supposed questions that Rand was asked, and his answers. Rand got increasingly "testy" in his responses.
"This is almost too good, here. Chris Christie, the governor of New Jersey, appeared on a local talk show called Pasta and Politics. Of course, when he left, it was just called 'Politics.'" Fallon showed a clip from the talk show, and said "I would say 'heavy cream' is Christie's blood type."
Fallon said "Scientists in England have developed technology for people to 'feel' holograms." Fallon then quipped about the HD versions of the Star Wars films that just came out today, and how certain changes were added.
"This is going viral," Jimmy Fallon then said. "Girls in Florida went on a ride called the Slingshot." He showed a clip, in which one of the girls said "If I die, tell mother that I loved her."
Then, The Roots played Jimmy Fallon to his desk. "Good news, everybody!" he said. "The Rolling Stones are back on tour! From the movie, Paul Blart Mall Cop 2, Kevin James is on the show! And from the musical Gigi, Vanessa Hudgens is on! I went and saw this magician, Dan White, do a trick he will perform on the show, and I was blown away. He will be doing one of the same tricks tonight."
Then, Jimmy Fallon talked about Yankees player, Alex Rodriguez. He said he did not think that Alex liked him very much. He then talked about someone hitting a foul ball that was headed towards his head, and he was caught on camera trying to dodge the ball, even though a net was there to protect him. "A couple of minutes later, the same thing happened," Fallon said, and he showed both of the clips. The second time the foul ball came towards him, he chugged his beer. He then demonstrated, by also chugging down a glass of beer he had with him.
After that, Jimmy Fallon did his "Thank You Notes" segment. Some examples were "Thank you, American Post Office, for misquoting Maya Angelou on a stamp. Or, as Benjamin Franklin put it, 'Haters don't hate.' Thank you, Washington D.C., for losing power this week — or, as President Obama put it, 'Join the club.' Thank you, White House Easter Egg Roll, for being the one day when Joe Biden gets to pick his own emblem."
Jimmy Fallon showed the clip of the Vine entry that won the person who made it a new Lexus car. First, Fallon showed a montage of people who sent in Vines and rapping. It was a pretty cool video montage. The person who won was someone who lived in California. Then, the Tonight Show went to another commercial break.
After the break, host Jimmy Fallon introduced his first guest, Kevin James. James stars in the new movie, Paul Blart Mall Cop 2. Kevin James strutted and danced his way to his seat, bringing it down. "This is the first chance I've gotten to interview you on this show," Fallon told him.
Kevin said "yes," but he mentioned there was a time years ago that they had both performed at a comedy club called Bananas together. "You just destroyed, and I was sweating. You were that funny, and did that well. I got my first 'You were good, too,' after the show, which is the worst."
Fallon said "You gave me tips on being a comedian. You were an inspiration."
They then talked about their families and kids. Kevin James said "I have four kids. I like keeping them on their toes. I say things like 'You were the youngest. Guess what — that's not going to happen anymore.'"
They talked about the changes in their lives, and having kids sleeping in the same bed with you. "It's impossible to get any sleep," James said.
"The first film was super physical. This one is also, and it's in Vegas. Take a look at Paul Blart Mall Cop 2," Fallon said, playing a clip. In it, Blart punched an old lady in the stomach. She said "It's my fault. I got in your way." She added "It shifts the focus away from my arthritis."
When the Tonight Show returned from another commercial break, Jimmy Fallon and Kevin James were talking, and Fallon said "You had your start in dramatic roles in the 1980s. We played these two biker dudes who always had slow motion fight scenes."
"We did a good job. We did an awesome job," Kevin James said. Then, Fallon showed a supposed clip from the series, Last Call Saloon.
Kevin had a wig on, as did Fallon. They had a fight, and Fallon kicked Kevin right in his groin.
Fallon said "Actually, I think that we might have another clip. Here's another scene from Last Call Saloon." In this clip, both James and Fallon were back in the bar.
"You ate the last beer nut," Fallon said. "Everybody knows I eat the last beer nut."
Kevin spit his beer nut at Fallon and said "There's your beer nut!"
James said that there were more beer nuts behind the bar, and he acted like he was throwing Fallon behind the bar.
"We have room behind the bar for one more!" Fallon said, and tried to man-handle James over the bar with him. James had to help him out, a bit, by maneuvering himself over.
"I can't believe that I'm saying this," Fallon said."We actually have one more clip from Last Call Saloon."
Both Fallon and James were playing cards. "Read 'em and weep!" Fallon said.
"Wait a minute — how can you have three Aces, when we both have the same hand?" James said. They once again had a slow-motion fight together, and ended up in a heap on the barroom floor.
"You kinda look like the same guy now," Fallon told Kevin James. They both still had on the same clothes and wigs. The Tonight Show headed to yet more commercials.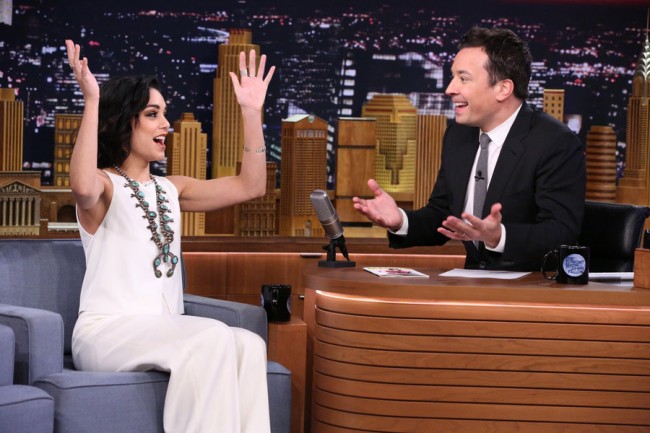 Back from the break, Jimmy Fallon introduced his second guest, actress Vanessa Hudgens. She is making her Broadway debut in the musical, Gigi. "Ladies and gentlemen, please welcome Vanessa Hudgens!" he said.
"Congratulations! You're on Broadway!" Jimmy Fallon told Vanessa.
"It's so much work. I've never worked so hard in my life, but it's so much fun," Vanessa replied.
The High School Musical actress talked about a guy in the audience who kept trying to get her attention by calling out, "Vanessa!" She said that her name was "Gigi."
Jimmy Fallon showed photos of Vanessa as a young girl, dressed up in various Halloween costumes. She mentioned trying out for the part of Esmeralda in The Hunchback of Notre Dame. "Who did I end up getting?" she asked rhetorically. "The hunchback!" Fallon showed a photo of her as the hunchback, and the Tonight Show cut to still more commercials.
When the Tonight Show returned from break, host Jimmy Fallon introduced the last guest of the evening, magician Dan White. Fallon participated in a magic trick that Dan White did. Dan said he had brought a gift for Fallon. White said "Before I give you the gift, we will play a game called 'How Much Money Did I Spend on Jimmy Fallon's Gift?'"
Fallon threw a ball out into the audience. The first audience member said he thought the amount was $25.00. The second said $47, a third said $52, and a fourth said $4.00. The fifth said $69.00, and the last one said $31.00.
"If I were to ask you if these numbers are random," Dan White continued, "you would probably say that they were. How much do you think I actually spent?"
Fallon said $2.00. Inside the package was a lottery ticket. Fallon read out the exact numbers on the lottery ticket, and they somehow matched the numbers that the audience members had called out. 31 was the Power Ball number.
Jimmy Fallon pretty much always can be counted on for delivering enough comic moments to make every episode of the Tonight Show entertaining. Some are better than others, of course. This episode was a pretty solid one, as Fallon and his two main guests, Kevin James and Vanessa Hudgens, were very entertaining themselves, adding to the quality of the episode. Also, magician Dan White's terrific magic trick helped add to the highlights and overall great quality of the episode.
Written By Douglas Cobb
Sources:
NBC Universal Media Village
Dan White's Official Site