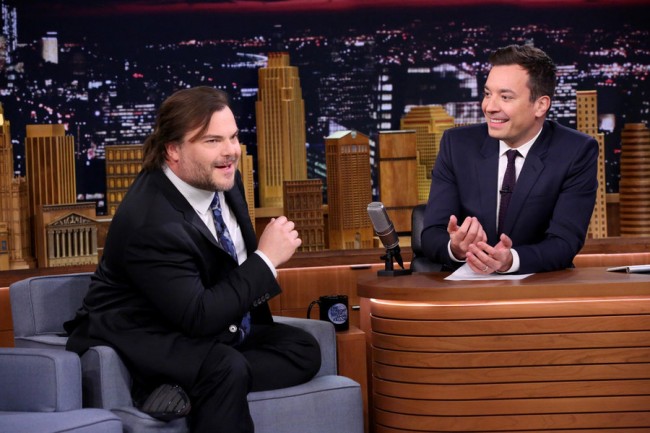 On the Tonight Show this first Monday of May, host Jimmy Fallon's guests were comedian and actor, Jack Black, from the movie The D Train, and Melissa Rivers, who discussed The Book of Joan. Fallon lip synced with Jack Black to More Than Words in a cool video later in the episode. Fallon's third guest of the show was comedian and actor Jeff Garlin, from The Goldbergs. He did a stand-up routine that was pretty funny.
Jimmy Fallon was greeted by a standing ovation as he walked out onto the stage. He then did his monologue, joking about people and events from today's news, like the Mayweather/Pacquiao fight. "That's one thing that I have in common with Floyd Mayweather — I have never lost a fight." He asked the audience if they had seen the fight, and if it was boring. The audience applauded, indicating that it was pretty boring.
Then, Fallon joked about the new royal baby that was born over the weekend, a new princess. He went to the "British correspondent, Nigel" to hear a report about the baby. Nigel said that the baby might be called "Brenda." Fallon said that she already has a name, Charlotte.
The so-called news correspondent said that "Some are speculating that her first word might be 'Choco Taco." Nigel kept on saying other ridiculous things about the new princess.
Fallon also joked about Bill Clinton's appearance on the Today Show this morning, claiming that he "wants to stay out of the spotlight." Clinton said on the Today Show that he would continue giving speeches, because "we got to still pay our bills."
At his desk, Jimmy Fallon talked about upcoming guests, like Sofia Vergara and on Friday, U2 will be the musical guest on the Tonight Show. Then, Fallon introduced tonight's guests, Jack Black from The D Train, and Melissa Rivers, who wrote The Book of Joan about her mother. Fallon said that Jeff Garlin will also be on, doing some stand-up comedy.
After that, Jimmy Fallon showed some humorous "Screen Grabs" people had sent in. One "Screen Grab" was a question a website asked, "What is the name of your favorite child?" Fallon showed another "Screen Grab" of dogs at an animal shelter. Somehow, an elderly woman's photo was also included — the woman's name was "Goo Goo."
Yet another "Screen Grab" was sent in by someone shopping on Amazon for a "portable bidet." Jimmy Fallon said "Why not just buy a water gun? You would just have to have good aim." He and the show's announcer, Steve Higgins, cracked up and made a series of cracks about it.
Then, Jimmy Fallon showed a picture someone sent in of Thor, that kind of looked like Fallon. He dressed up in a blond wig and helmet with wings on it, and he did look sort of look like the picture.
When the Tonight Show came back on after a commercial break, Jimmy Fallon said that he and Jack Black had been in a band together back in the 1980s, and that they shot a video together. He then showed a black-and-white clip of Jack Black and himself with very long hair lip syncing the words to More than Words and looking into each other's eyes while playing the guitar. It was an AMAZING performance!
Jimmy Fallon introduced the first guest of the evening, Jack Black, after another commercial break. Fallon said that The D Train will hit theaters this weekend. "That was so rad! I loved seeing that video we shot in the 80s! And now, here you are, the Undisputed King of Late Night! I'm so proud of you!" Jack said.
They both talked about their children. Jack Black said that his son, Tommy, 8, is really into martial arts and liked to attack him, going for his genitals. Jack Black said that he had to have a talk with him about it.
Jack Black talked about Tommy having played a game using a free app, but though the app was free, he had to pay for items bought using the app, like jewels in the game. He said that his son racked up something like $3,000 worth of expenses related to buying things while playing the game.
After that, Jack Black talked with Fallon about the plot of The D Train. In the movie, he tried to get someone to come to a high school reunion. Black told Fallon the movie had a lot of "twists." Jimmy Fallon showed a clip from the flick — it looks like it will prove to be a very…interesting sort of film.
More commercials followed Fallon's interview of Jack Black. He then introduced his second guest, Melissa Rivers.
"I, of course, wish your mom was here to mess around with. It was a big deal to have her on the show," Fallon said. Melissa told him "It was a big deal for her, too. It was the 40th anniversary of her first appearance on the Tonight Show."
The then talked about the Red Carpet Show at the Oscars, which both Melissa and Joan had worked on, and other topics from the book that Melissa had written. Melissa showed a report card of her mom's when she was in first grade, that said she had a big voice.
Melissa mentioned that Fallon had said he liked jokes about Tony Danza. She presented him with a framed Tony Danza joke from her mom's vast files of jokes. Fallon looked like he was very touched by the gift.
Back from yet another break, Jimmy Fallon introduced Jeff Garlin from The Goldbergs. Garlin did a stand-up routine about a man who was stopped by airport security and told that he "had too many toiletries" in his bag. The man insisted that he needed all of the various "creams and lotions" he had in his bag.
Garlin sat next to him on the plane. He asked the man "What happened with your creams and lotions?" The man told him "The lady threw them away."
"What's the difference between a cream and a lotion?" Jeff asked him.
"Lotions are water-based. They go all over your body. Creams — that's oil-based. A little dab will do you," the man told him.
Garlin said "One day, I'm going to open up a little shop called Jeff Garlin's Good Lotions. Not great ones, but good ones. And, I will have a little sign in the window: Creams – a Little Dab Will Do You."
Jeff Garlin's humorous stand-up routine closed out the Tonight Show. Jimmy Fallon's other two guests were comedian and actor, Jack Black, who talked about his son and his upcoming movie, The D Train. He also was in a cool video with Fallon, in which they both lip synced to the song More Than Words. Melissa Rivers was the second guest, talking about a book she had written about her mother, Joan, called The Book of Joan.
Written By Douglas Cobb
Jimmy Fallon and Jack Black Lip Sync More Than Words

Sources:
NBC Universal Media Village
The Tonight Show Starring Jimmy Fallon Official Site (NBC)