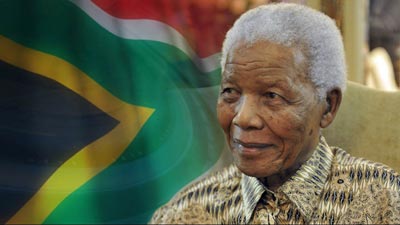 Johannesburg, Dec., 6, 2013: According to NBC, the funeral of Nelson Mandela will be held on December 15. Earlier the President of South Africa Jacob Zuma had told the world media that his body will lie in state from Dec.,11 to 13.
Nelson Mandela was born on July 18, 1918 in a small village in South Africa. In his own words,"Apart from life, a strong constitution, and an abiding connection to Thembu royal house, the only thing my father bestowed upon me at birth was a name, Rolihlahla. In Xhosa, Rolihlahla literally means 'pulling the branch of a tree', but its colloquial meaning more accurately would be 'troublemaker'. I do not believe that names are destiny or that my father somehow divined my future, but in later years, friends and relatives would ascribe to my birth name the many storms I have both caused and weathered." He was given the name Nelson on his first day of school at the age of seven by the teacher at the missionary school.
Mandela spent most of his early life campaigning against apartheid and was eventually jailed for life for taking up arms against the state; it was expected that he would die in a cell on the small Robben Island, but destiny had other things in store for him.
Released under great protest by the African people in 1990, he became the President of South Africa four years later.
Nelson Mandela was a statesman revered and respected all around the world. He was often compared with such great historical figures as Abraham Lincoln, Mahatma Gandhi and Martin Luther King Jr.
Mandela's funeral will be attended by dignitaries from all over the world.
By Iftikhar Tariq Khanzada