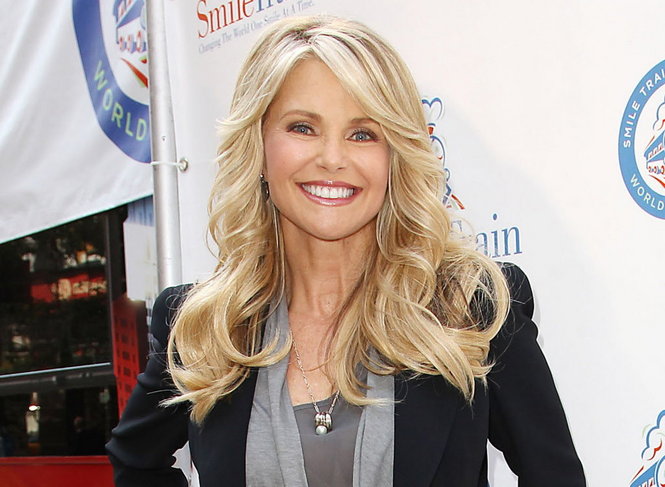 With over 500 magazine covers on her resume, including three consecutive Sports Illustrated covers, supermodel Christie Brinkley continues to look amazing. The mother of three is turning 60 years old and she is celebrating the moment in a stunning swimsuit. Brinkley is slated to appear on the February edition of People magazine.
While the magazine will be spotlighting a huge 10 page edition on the Olympics, all interested eyes will be feasting on the glorious beauty on the cover. Brinkley states she has never been under the knife, but would keep the option open. The admission is refreshing from the classy model.
Brinkley has held an electric journey throughout her live with a trend of health and fitness embedded. In the magazine she credits her three children for keeping her on the path of health. Her interview is engaging as she shares she would wear a bikini alone, but the minute her kids are in attendance, the bathing suit comes back on. Brinkley states she opted for a full swimsuit on the cover of the magazine, stating her kids would be "so embarrassed" if she had sported a bikini, instead. Millions others are just astounded at the youthful embrace of life Brinkley takes, as she marks her 60th birthday on Feb. 2.
The refined supermodel sat down with Nancy O'Dell, host of Entertainment Tonight for a recent interview. Brinkley is currently single and stated she is open to love – she also stated an interesting fact. Brinkley states with men in her age group, she feels invisible, and seems to garner the most responses from men in their late-30s and early 40s. While that age group shows an interest in dating the glamorous model, Brinkley laughs it off, advising she does have limits on dating younger men, stating a "ten year span" would be acceptable.
Atop of magazine covers and adorers, Brinkley was half of four previous marriages. In the early 70s, Brinkley met and married a French artist, after eight years the couple called it quits. Four years after her divorce, she entered into a passionate affair with singer Billy Joel. The couple were married for nine years and currently remain on good terms. A few years ago after Joel underwent double hip replacement, it was Brinkley who helped him get back to a path of health.
In 1994 news reports surfaced of Brinkley being involved in a serious helicopter crash. The supermodel healed and fell in love with Richard Taubman. While still married to Joel, the couple became engaged. Shortly, after her divorce to the Uptown Girl singer, she married Taubman at the location of the accident. The marriage barely lasted a year – it was then Brinkley encountered Peter Halsey Cook. The two had commonly crossed paths and connected officially in 1996.
That same year the happy couple married, and even former husband, Joel appeared at the wedding to support Brinkley. The marriage was Brinkley's last to date, ending in a bitter, media fodder divorce in 2008. Cook admitted to a pornography addiction and cheating on his wife with a young female. Brinkley won a large settlement, especially after revelation of Cook's heavy hand on the three children.
Past the drama and now bordering on her 60th birthday, Brinkley looks better than ever. She has learned to love life and looks to her children as great reasons for living passionately. Brinkley states she enthralls in monthly facials, working out, maintaining her vegetarian lifestyle and more importantly? She is ecstatic about turning 60, by continuing to embrace the joys of life.
Angelina Bouc
Sources:
Vancouver Sun
Fox News
Hollywood Life