Humans will soon be suspended between life and death in actual suspended animation. This is because scientists in the United States, for the very first time ever, are planning on starting to test a trailblazing emergency procedure. They are going to take either knife wound or gunshot victims and cool them down to a certain temperature and then place them in suspended animation. It will be a state where they will not be alive however also not considered dead either.
At a hospital  located in Pittsburgh, Pennsylvania, physicians will attempt to try and save the lives of ten patients who will be in suspended animation. These will be the first trials ever held on human beings keeping them between life and death.
If this procedure proves to be a success, it may then start to be used in other various medical emergencies which will give doctors more time to be able to provide treatment to patients who are suffering from traumatic injuries such as stabbings or gun wounds.
The technique consists of switching all of the patient's blood with a cold saline solution, which quickly chills the body and puts a stop to just about all cellular action.
Dr. Samuel Tisherman, who is a surgeon at the Pittsburgh Presbyterian Hospital, and is the leader of the research trial, explained that he and his team are indeed trying to suspend life, but they do not like to call it suspended animation because that sounds too much like science fiction. So instead they prefer to call it "emergency preservation and resuscitation".
This procedure was first tested on pigs back in 2002 by scientist Dr. Hasan Alam. He was working with a team of associates at the University of Michigan Hospital.
They sedated the animals and created massive hemorrhages inside the bodies, in order to mimic the results of several severe gunshot wounds. The pigs' blood was drained and then exchanged with either a cold saline or potassium solution. Next the bodies were swiftly cooled down to about ten degrees Celsius.
After all the injuries had been treated, the animals were slowly warmed up as the solution was removed and again replaced with their own blood. For the majority of animals, the pigs' hearts began beating on their own, even though the pigs had been in suspended animation for several hours. It was also found that none of the animals had any physical or mental impairments. There was no mention of any animals actually dying from the technique.
Surgeon Peter Rhee, who works at the University of Arizona, and who aided in developing the procedure stated that after he and his associates performed these experimentations, that the definition of "dead" changed.
Dr. Rhee stated that each day,  while at work he must officially declare people as dead. They do not have any signs of life, no brain action and no heartbeat. He added that he must sign a form while knowing in his heart that they are not really dead. He could right then and there put them in a suspended state. But instead he has to place them inside a body bag. He said it was very frustrating knowing there is a solution.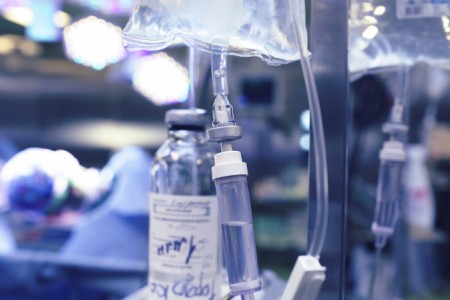 The procedure will be first tested on ten individuals and the outcome will be then compared with another ten who did not have this sort of treatment.
After that the practice will continue to be refined and then tested again on yet another ten people, explained Dr. Tisherman, until there have been enough outcomes to be able to give a proper analysis.
So scientists in the United States are going to start testing a trailblazing procedure. They are going to take either knife wound or gunshot victims and cool them down to a certain temperature and then put the patients in suspended animation. The people will not be considered either alive or dead.
What is the reader's opinion of this? Feel free to leave your comments below.
By Kimberly Ruble
Sources: