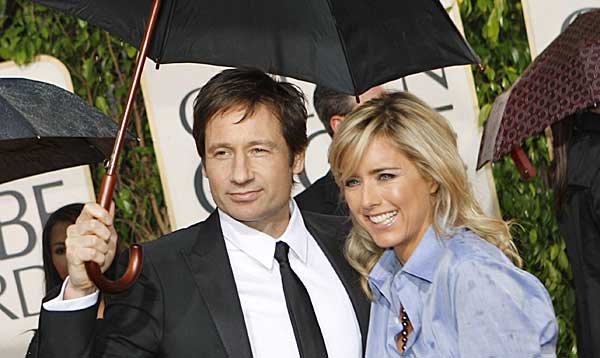 Actor David Duchovny and his now ex-wife Téa Leoni have officially finalized their divorce after 17 years of marriage. The matter became official early this week, after being initially filed in June by the former The X-Files star. The reason given for the divorce was cited as irretrievable breakdown of the relationship.
Unlike many other celebrities, the couple's divorce proceedings went almost completely unnoticed by the public. Sources close to the two say that they wanted to get through the process quickly and quietly, without any interruptions from media and the like. This is not the two's first foray into divorce, as they separated both in 2008 and 2011. This time, however, the pair went through on their decision.
The terms of the divorce result in joint legal custody of their children being shared between them, but with Leoni having full physical custody. The children, Madelaine West Duchovny and Kyd Miller Duchovny, are aged 15 and 12 respectively. The children's parents both reside in New York's Upper West Side, making transportation of the children not an issue. Their father is paying child support in the amount of approximately $8,500 a month, along with any other expenses that may come their way as their lives progress. Leoni is also receiving $40,000 a month in spousal support.
Leoni and Duchovny married in May of 1997. Their daughter was born in April of 1999, and their son in June of 2002. Their marriage began to head south in the summer of 2008, when Duchovny checked himself into rehab for sex addiction. A few months later, a statement was released by the pair's representatives that the two had separated several months prior to the actor's check-in.
British newspaper The Daily Mail published a now retracted story regarding an alleged affair between Duchovny and Edit Pakay, a Hungarian tennis instructor, that was purported to occur during his marriage to Leoni. The actor vehemently denied these accusations and threatened to take legal action against the paper, prompting them to initiate said retraction. Following these events, Duchovny and Leoni managed to reconcile their marriage, but only for a short time.
The pair split again two years later, with Duchovny giving a statement in June of 2012 that although he was still married to Leoni, the pair were separated. The two did not reconcile after this, thus leading to their finalized divorce.
Duchovny is best known for playing Fox Mulder on the Golden Globe winning Sci-Fi drama series, The X-Files, which aired on FOX for almost a decade. Following the end of this series, he picked up several small roles in a variety of series before landing the lead role as Hank Moody on Showtime's comedy-drama series, Californication, which also won a Golden Globe, as well as two Emmys.
Before beginning his career as an actor, Duchovny secured two Ivy League degrees: a bachelor's in English literature from Princeton University and a master's degree in the same from Yale University. He was reportedly working on a Ph.D that never got completed, containing a thesis that was entitled, Magic and Technology in Contemporary Poetry and Prose.
Leoni also has a career in acting, with credits in over two dozen films and series, including an appearance in The X-Files. Her most recent appearances include such films as Tower Heist, The Smell of Success and Ghost Town. She is set to play a lead role in the upcoming political drama Madam Secretary, which has currently just wrapped up production.
It is unclear, as of yet, whether or not the pair's finalization into divorce will remain permanent. However, David Duchovny and Téa Leoni seem to have their minds set on remaining apart for the time being.
By Rebecca Grace
Sources:
TMZ
Radar Online