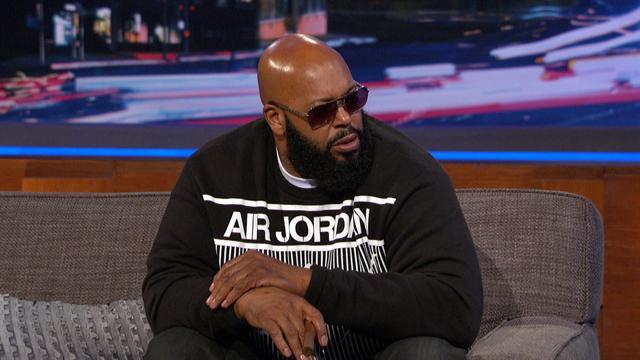 Death Row Records honcho Suge Knight is claiming innocent in his recent arrest for camera theft, in which he was booked alongside comedian Katt Williams for alleged hijacking a female photographer's camera and causing injury to her finger. The 49-year-old has given the defense that he and his crew were merely attempting to protect his four-year-old son from the camera woman's harassment, and that the allegations of her camera ever permanently leaving her possession are downright false.
Sources close to the California native recently gave a statement to popular gossip website TMZ in which they detailed the rap mogul's reasoning for the event going down the way it did. While he admits that a female associate did get into it with the independent photographer, he says it was only because the woman was refusing to cease filming his toddler, which she was requested to do several times. The woman refused to erase the video footage she shot of the child, even after Knight professed his feelings towards how uncomfortable it made him, and his female companion subsequently began getting more demanding with the woman in the hopes she would comply. According to Knight, the photographer still had her camera on her person when authorities arrived at the scene, contrary to her own report that Williams made off with it following the conflict.
Los Angeles law enforcement sources have given the statement that they feel Knight was the orchestrator behind the incident, and that 41-year-old Williams was merely doing what he was told in terms of his involvement. Williams has since taken all the blame for what happened, telling TMZ that he would much rather take on full responsibility for the incident than allow Knight to be convicted and serve significant jail time for what went down. In terms of the jail time the two are looking at should they be convicted, Knight is looking at 30 to life and Williams at up to seven years. The reason for the former rap icon's lengthy sentencing possibility relates to a separate charge involving assault with a deadly weapon, and the latter recently appeared in court in order to deal with a separate assault case.
Williams himself gave an interview with a TMZ photographer shortly following his release from prison on a reported bail amount of $75,000. Although he was not too generous on the details, he did go as far to say that the incident was not Knight's fault in any manner whatsoever, and made reference to the small boy the group was attempted to protect. His story says that the female photographer originally agreed to erase the video, and then attempted to make a quick break. Williams says that he and his crew then proceeded to chase the woman down, thus leading to cops being called. The Ohio native was clearly on one thing, however: he would not sell Knight out regardless of the penance he got in return.
It remains to be seen whether Suge Knight's claims that the September 5th incident occurred due to his wanting to protect his young son from the alleged harassment of the camera woman in question. Plans for his and Williams' sentencing also has yet to be revealed.
By Rebecca Grace
Sources:
TMZ
New York Daily News
Mail Online