By Dawn Cranfield
Obama's in Vogue Touting Family First
The April issue of Vogue Magazine will feature first lady Michelle Obama on the cover with an article including her and President Obama talking about their family values.  The issue that appears on newsstands March 26 has a cover photograph by famed photographer Annie Leibovitz, with the first lady wearing a dress by premier luxury designer Reed Krakoff.
Inside the magazine, Michelle Obama can be seen in a gown by Michael Kors.
Jonathan Van Meter interviewed the Obamas at the White House in February, and claims, "'What is truly unusual about the Obamas is that, in their own quietly determined way, they have insisted on living their lives on their terms: not as the First Family but as a family, first.'" (usatoday.com)
President and Mrs. Obama discussed their children, their "annoying" habits of staying at home, their teamwork marriage, and "how they manage to survive in the White House despite their "zip-line arrival" with virtually no preparation for the high-scrutiny lifestyle." (usatoday.com)
Van Meter believes the first lady is a "modern definition of effortless American chic, she tells women to wear whatever makes them feel good about themselves." (usatoday.com)
Van Meter quotes Michelle Obama as saying, "'I also believe that if you're comfortable in your clothes it's easy to connect with people and make them feel comfortable as well. In every interaction that I have with people, I always want to show them my most authentic self." (usatoday.com)
Interestingly enough, she is peddled as being an everyday American who wears Target dresses by Jason Wu for $39.99, but when she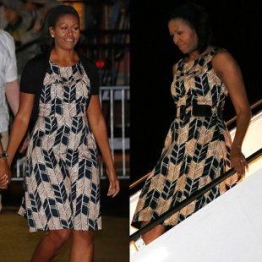 is being photographed as "Inspiring America" the dresses she wears are upwards of $1,000 and more.  It leads one to ponder the question if her authentic self is the Target dress wearing individual most Americans can relate to, or the Michael Kors fashionista.
As for "family first", I cannot recall a presidency as enamored with Hollywood and fame as President Obama.  The fact that he has been on The View, The Tonight Show, The David Letterman Show, Late Night, The Oprah Winfrey Show, The Apprentice, and Saturday Night Live is egregious.
When Barack Obama became president, he agreed to put our country first, before his family, before his desire to become famous and have a place in the history books.  He has taken the White House from the people and has invited in sports stars, reality television stars, and movie stars all while locking out the American people.  They should rename it Obamawood.
The piece in Vogue does little to inspire, it appears to be another piece of propaganda, put in place for a man who never stops campaigning.
http://m.usatoday.com/article/news/1986191?preferredArticleViewMode=single