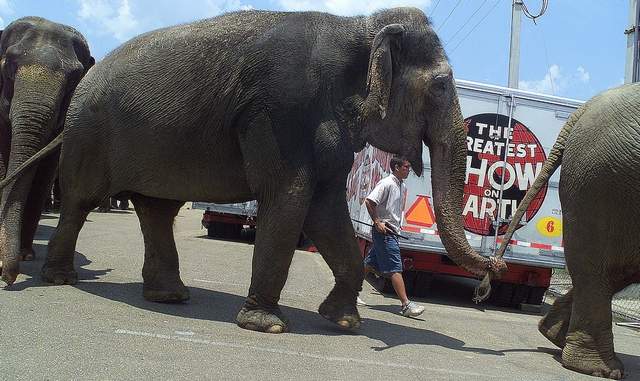 By: Jason Thomas 
Elephant Shot In Tupelo Apparent Drive By Shooting
More than $16,000 has been offered to find the person who shot Carol, a 39-year-old endangered Asian elephant at a Ringling Brothers and Barnum and Bailey Circus event in Tupelo, MS on Tuesday morning.
Rob Lang, General Manager for Ringling's "Gold Edition," stated, "Never in the one hundred forty-three years of Ringling Brothers Circus has anything like this ever happened. So, a lot of disbelief, a lot of disappointment."
The circus had finished setting up their compound at BanCorpSouth Arena only hours before the shooting.  A vehicle of interest has been named in the apparent drive by shooting.  Tupelo Police Captain Rusty Haynes has said that Tupelo Police are looking for a white or silver Ford Explorer.  The vehicle had been spotted on a street behind the arena just before the shooting.
The weapon used to cause the wound on the elephant is unknown at this time.  Captain Haynes described the wound as being between her ear and the base of her skull.  Considering that Carol is an endangered species, if the perpetrators are caught they will likely face a very long jail sentence.
The circus' veterinarian has determined that Carol will be ok, but she will be out of action for six to eight weeks.
Arena Executive Director Todd Hunt said the instance was a black eye for Tupelo, and that it should not be considered typical for the citizens of the city.  It's also not representative of BanCorpSouth Arena.  Things like this have just never happened in this area before.
If you have information related to the event, please contact Tupelo, MS police at (662) 841-6491.