By Dawn Cranfield
Boston Marathon Bombings: 3 More Suspects in Custody
Boston police have taken to Twitter to announce they have taken three college students into custody regarding the April 15 bombing at the annual Boston Marathon.
The pressure cooker bombs went off at the finish line of the famed marathon, ultimately killing three and injuring more than 250.  Some victims had to undergo surgery to have limbs amputated after the explosion.
Authorities are not saying much more regarding the suspects and are referring all questions to the FBI.
Brothers Tamerlan and Dzhokhar Tsarnaev were the original suspects in the plot and were involved in a shootout with police after they had a confrontation in Watertown.  The older of the two, Tamerlan, was killed during the melee; Dzhokhar remains in police
custody in a hospital prison, wounded from the gunfight.
Although Tamerlan's widow has opted not to pick up her husband's body, she has agreed to release it so relatives can pick it up.  "'Of course, family members will take possession of the body,' uncle Ruslan Tsarni of Maryland told The Associated Press on Tuesday night.  'We'll do it. We will do it. A family is a family.'" (chron.com)
While authorities (and many patriotic Americans) believe the Tsarnaev brothers are guilty of the bombings, not everyone is as assured.  There are Facebook groups claiming their innocence and family friend, Britney Smith, is no exception.  Of the brothers and the claims by experts, she says, "'I was always taught to believe what you see and… what I see is two people walking with book bags. I don't see them planting down explosives. I don't see book bags being dropped,' Smith said, apparently referring to images widely circulated by the FBI that show the brothers with bags either near or heading in the direction of each of the bomb sites. 'If he [Dzhokhar] gets convicted and I see proof of him doing it, then I will be in total shock. I would be in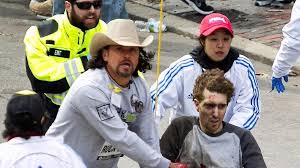 disbelief and disgust that he would do that.'" (abcnews.go)