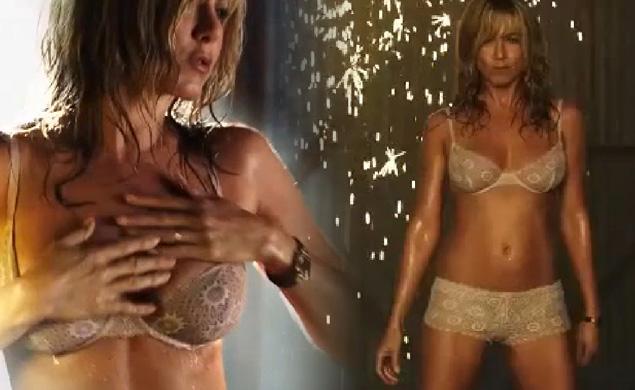 Jennifer Aniston looks hotter and sexier than ever as stripper Rose O'Malley despite being 44 years old, in the trailers that Warner Brothers has released for her movie "We're The Millers."
The movie will be out in theaters this August 9, and if the promo is any indication, it's going to be a summer blockbuster.
The film's director, Rawson Marshall Thurber, has stated about Aniston's performance in "We're The Millers" that "I don't think she ever worried about" any of her stripper scenes.
Life post-Brad Pitt has certainly seemed to agree with her. In the video below, she shows off her rock-hard sexy abs and proves she has awesome comedic timing as well as a sexy butt.
How did the Friends alum Aniston get her body ready to play a stripper?
Jennifer Aniston credits her workouts with her longtime yoga instructor Mandy Ingber as the way she was able to sculpt and mold her body into one a goddess would envy — one who is into stripping and lap dances, anyway.
According to Ingber, Aniston used to be a "gym rat" and she keeps her body in peak condition by doing yoga three times a week and eating a diet of healthy and organic food.
Jennifer is very funny in the promo — but she is surrounded by a cast of comedians and actors who have also demonstrated their comedic chops in several movies.
Aniston has worked with one of the actors before. She stars opposite her Horrible Bosses co-star Jason Sudeikis in the movie. Sudeikis also stars in this summer's film "The Hangover III."
David Burke (Sudeikis) is a single guy hired by a drug smuggler Ed Helms to help him get a "smidge" of marijuana across the border from Mexico. He is the lead male actor in "We're The Millers." Predictably (but that doesn't make it any less humorous), the "smidge" turns out to be "enough weed to kill Willie Nelson."
To accomplish his mission, David needs to pass himself off as a respectable family man on vacation with his wife, son, and daughter.
He creates his fake family with the help of his neighbor Rose (Jennifer Aniston) along with Kenny (Will Poulter), a "dork" that lives in his apartment building and "little gutter punk" Casey (Emma Roberts). They are supposed to appear like they're an ordinary family who are on a vacation south of the border.
Jennifer and her co-stars –go figure — have a few, let's call them difficulties — passing themselves as as an "ordinary" family, though. Their vacation really hits a bumpy patch in the road when an international drug dealer gets involved. He take the "family" hostage. When her so-called "husband" David Burke tells the thug she's a stripper, the drug dealer asks her to prove it by giving him a demonstration.
How well does she prove it? Watch the promo below to find out!
"We're The Millers" opens in theaters August 9.
Written by: Douglas Cobb