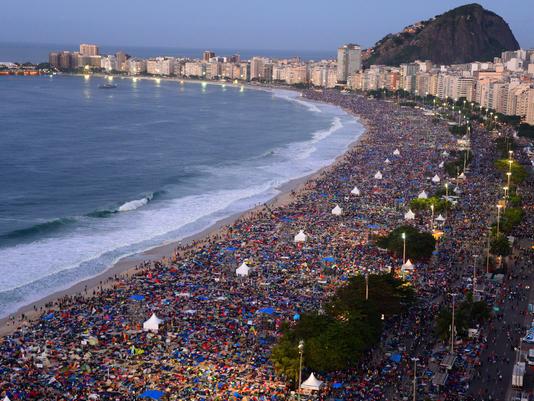 Upwards of 3 million people converged on Copacabana beach in Rio De janeiro , some camping out overnight to get a chance on seeing Pope Francis. The Pope will hold Sunday mass on the beach. On Saturday a speech was given in which the Pope refers to the church as "cold."
 Pope Francis delivered a speech talking about the changes between the message of the church under Benedict XVI and his new vision of the churches direction. "At times we lose people because they don't understand what we are saying, because we have forgotten the language of simplicity and import an intellectualism foreign to our people. Without the grammar of simplicity, the church loses the very conditions which make it possible to fish for God in the deep waters of his mystery."
The pope spoke of the hundreds of thousands of people leaving the church. As Catholics in Brazil move to Protestant and Pentecostal congregations Pope Francis talked about the things he believes is responsible for the dwindling attendance. The Pope refers to the church as cold and caught up in itself and asked if priests can still "warm the hearts "of its faithful followers.
Even with a speech that outlines problems within the church Ana Samson of Long Beach California was in awe. "Seeing the pope, seeing the Stations of the Cross acted out live, seeing all these young people from all over," It's overwhelming, just amazing."  Eleazar Reyes came from Union City New Jersey. His mother made and sold pastries and empanadas to pay for the trip for him and two siblings.
The mass on Copacabana beach marks the end of World Youth Day, which is a young Catholics gathering held twice yearly.
Pope Francis has started to try and take the Catholic Church in a new direction. Targeting the poor and downtrodden on his trip he has visited juveniles in trouble and drug addicts. He urges people to get out meet people, not wait for them to come to the church.
Pope Francis was born in 1936 and is the 266th pope of the Catholic Church. He was ordained a priest in 1969. Pope Francis is the first Jesuit Pope, first pope from the Americas and first form the Southern Hemisphere. As a man that has been known as humble and has concern for the poor among us Pope Francis is seen as bringing a fresh outlook to the Catholic Church.
 The statement where the Pope refers to the church as cold and caught up in itself shows his intention to make changes. But the church still has a long road ahead. With charges of abuse and its stance on gay marriage the Catholic Church has its detractors. Even with Pope Francis making welcome changes it may not be enough to stop people from leaving the church or the general feeling of the Catholic Church as being out of touch with the common masses. It will take the congregation embracing the new pope's views to begin to turn things around, as even though Francis is pope he still is only one man.
Written by Kevin Reid