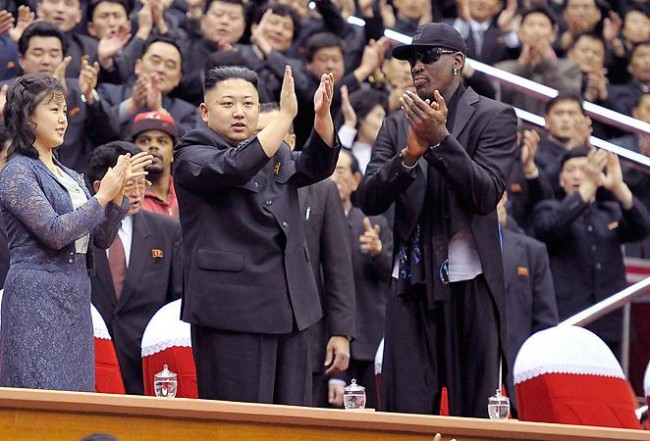 The Worm, Dennis Rodman has landed and is again in North Korea establishing his evolving friendship with U.S. criticized dictator Kim Jong-un, fondly known to Rodman as the Marshal.
Rodman's five-day visit to North Korea has nothing to do with diplomacy. When has the outrageous and gaudy, sometimes multi colored haired, former NBA player ever been tactful and discrete? Rodman, 53 and Kim Jong-un, 30 are actually friends and met for the first time earlier this year while the basketball player was in North Korea filming for the Vice, HBO's new magazine show.
Since Kim Jong-un's appointment as Supreme Leader of North Korea, Dennis Rodman a whopping 6'7" has been the first American to meet with the 5'6" monarch. The dictator and controversial basketball star have a lot in common. They both have a love for basketball and both love to drink tequila, whiskey and vodka. With Rodman just launching his Bad Boy vodka, most likely Bad Boy will be freely flowing at the new BFF's second reunion.
For Rodman, Paddy Power is sponsoring this second trip to Korea. Paddy Power is an Irish online bookmaker, but offline operates Ireland's largest telephone betting service, among other things such as setting the Guinness Book record for conducting the largest strip poker tournament in the world.
There has been speculation that Rodman's second trip to North Korea would be for diplomatic reasons in trying to obtain the release of Kenneth Bae. Bae was jailed for 15-years hard labor for attempting to overthrow the North Korean government. The Christian missionary was arrested last year as North Koreans claimed he had brought unauthorized propaganda into the country, including a National Geographic documentary depicting life in North Korea.
Bae was actually located out of China and trained with a missionary group Youth With a Mission that ran tour groups through North Korea. He videoed a sermon to a St. Louis American Korean church that he planned to bring Christians into Ranson, which is a North Korean free trade port.
Although Kim Jong-un permits religious freedom in the North Korean country, religious expression is squashed. Jong-un demands total loyalty in the three generational Kim dynasty.
On the other hand, Bae's family believes the arrests come from Bae's sympathy to North Koreas' orphans, who he fed while he traveled through the country as a tour guide. Bae's family is concerned for his health. Recently he has become ill and become hospitalized.
Robert King a U.S. spokesperson on human rights issues with North Korea last week was scheduled to visit Kim in Pyongyang to discuss Bae's release, but the meeting was cancelled due to the U.S. holding drills using nuclear capable B 52 bombers.
Bill Clinton was another high profiled representative when in 2009 he successfully secured Laura Ling and Euna Lee back home after crossing North Korean borders. They were to serve a 12-year hard labor sentence.
Although Rodman, the worm wearing a ring in his lip and two in each nostril, interviewed with the Huffington Post stating that he could become the most powerful person in the world when meeting with his new evolving friend Jong-un, the Marshal by getting Bae released. However, his egotistic revelations have since been silenced. Remember having free expression in North Korea is not allowed.
Rodman, whose was nicknamed the Worm by his mother when Dennis would wriggle and wiggle as a kid while playing pinball machines, denies his trip to see Kim Jong-un as diplomatic in any nature. Rodman considers Jong-un his friend, fondly giving him the nickname Marshal. The Worm's mission is not that of a diplomat, but just to show that Americans can have a good time in North Korea and meet new people. Instead of trying to discuss the release of Bae, Rodman's intent this time around is to discuss the possibility of starting a North Korean basketball league.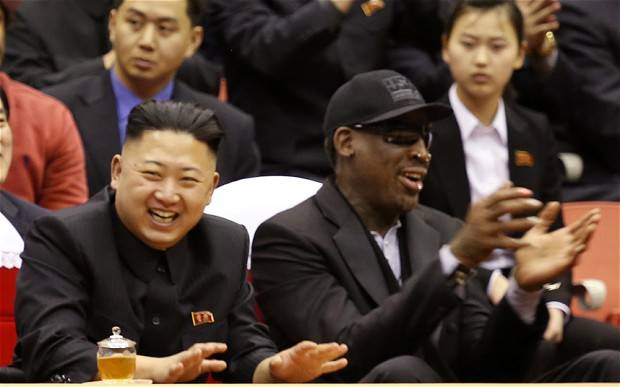 Rodman's initial visit to North Korea has been anything but diplomatic to the U.S. On his trip to Pyongyang earlier this year, North Korea was threatening the U.S., Japan and South Korea with missile strikes. North Korea is all about having a good time and meeting new people.
But not to fear, Rodman is quoted as saying "the kid is awesome." So awesome that under Kim's rule, there are an estimated 200,000 prisoners laboring in work camps, Kim has threatened the U.S. with missile strikes after the U.S. sanctioned North Korea in February for nuclear missile test, closed down a North Korean industrial factory which employed 50,000 and most recently executed his former girlfriend had her musical entourage, only to mention a few of Kim Jong-un's awesome traits.
But for the friendship evolving for the Worm and the Marshal, together the two could possibly be the next super powers in their own egotistical minds.
Written by Lisa Graziano