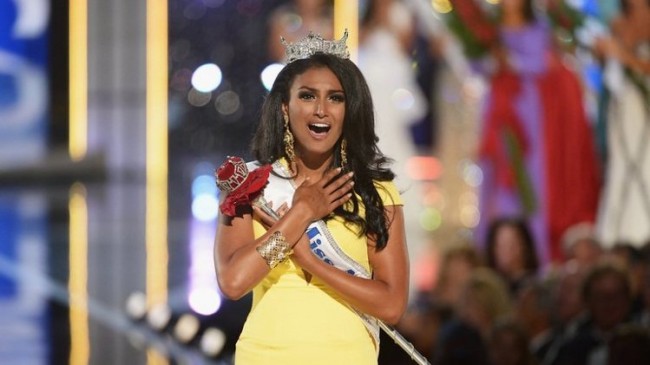 The newly crowned Miss America, the lovely Nina Davuluri, is about as far from the "dumb model" stereotype as one can get. The next step for this year's Miss America winner is finishing med school. Already a graduate of the University of Michigan, Davuluri has received a $50,000 scholarship from the competition that she is putting toward additional studies.
After Miss New York Mallory Hagan won last year's Miss America title, Nina Davuluri is the second consecutive winner to be a native of the state. The runners-up in the contest this year included Rebecca Yeh, Miss Minnesota; Crystal Lee, Miss California; Kelsey Griswold, Miss Oklahoma; and Myrrhanda Jones, Miss Florida.
Not only is the 24-year-old Nina Davuluri the first Indian American to be crowned Miss America, but she is also notably intelligent and well-educated, certainly far more so than any of her racist detractors, who somehow keep mistaking an Indian Hindu for a Saudi Arabian Muslim. A recent graduate from U-M with a degree in Brain Behavior and Cognitive Science, Nina was also a recipient of the Michigan Merit Award and the National Honor Society Award. At U-M, she had leadership roles as a Student Assembly Representative, a Pan-Hellenic Delegate, and as a executive board member of the Indian American Student Association.
Such a dedication to college is not hard to understand, especially considering how deeply a commitment to higher education runs in Nina's family. Nina's father is a practitioner of gynecology, while each of the aunts and uncles on both of her parents' sides work in the medical field in some capacity. Even her sister, a fellow medical major, is currently in her third year of graduate school. Now, as her grandmother recently noted, "Nina also wants to become a doctor, a cardiologist." Miss America's next logical step is finishing up medical school.
The odd backlash from some individuals on the internet is not so much sad as it is a predictable display of cultural and historical ignorance. Nina, of course, is not the only individual of non-white descent to have won the Miss America title. Long before her, there was African-American Vanessa Williams who won in 1983. And before her, in 1951, it was Yolande Betbez –  whose ancestry was primarily a Basque one (from northern Spain) – that wore the crown. None of this began to happen, however, until several decades after the contest's inception in 1921. This is something that many of the contest's viewers may not be aware of, a regrettable aspect of the Miss America pageant's history.
For quite a while, in fact, women were not allowed to compete in the pageant unless they fit under Rule Seven, which demanded that each contestant "be of good health and of the white race." Today, we can look back and know that we have lived through many decades of winners from varied families and backgrounds, none of which have been required to prove a white European ancestry, lest they be disqualified. This is the very idea which Nina continued to uphold with her "Celebrating Diversity through Cultural Competency" social platform. Today, race is only an aspect of the contest on the outside, not the inside. Being "American" is irrelevant in a country where so-called "Americans" only came from everywhere else.
Neither race nor origin is a barrier that has held Nina Davuluri back in her academic and career ambitions. Nina did not win the Miss America contest because viewers or panel judges felt sorry for her as an Indian-American. Rather, she won Miss America, and will continue finishing a university education, because she worked hard enough to get there. The next logical step for a capable Miss America is fulfilling her med school requirements, hopefully doing so with the highest amount of honor and diligence.
An editorial by Chris Bacavis