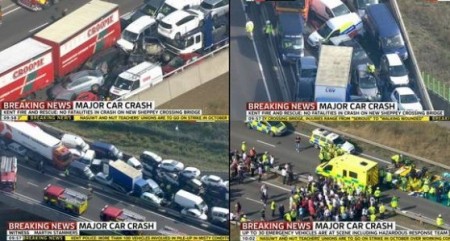 During the early hours of the rush hour this morning, along a new flyover crossing in Kent in the United Kingdom, dense fog caused a 130-vehicle or concertina pile-up as people were heading out to work. It has been reported that there are over 200 walking wounded, with about 60 of whom were being treated at the scene as the bridge has now been closed off by emergency services.
The scene itself, from aerial cameras, shows an accumulation of twisted and tangled vehicles, from cars, trucks and vehicle transporters.
Police have reported that eight people have been seriously hurt, with hundreds being treated at the scene for minor injuries.
An eyewitness had said of the massive accident, "All you could hear was cars crashing," while he described "cars in the air… under lorries and people laying on the floor."
Eyewitness, Joe Ford describes the incident:
The fire department had also been called out with special hydraulic cutting equipment to free five people from the wreckage.
There were also 30 ambulances reported to be at the scene, although miraculously, so far there have been no fatalities.
Other witnesses at the scene have reported that the mass accident, which happened shortly after 7:15 this morning, was as a result of dense fog and it did not help that visibility was extremely poor, with a 20-yard viewing distance in some parts.
While Kent Police are saying that they are not clear as to what exactly caused the accident, others are reporting that there were some drivers had slowed down due to the fog, and others drove with their fog lamps off while moving at high speeds.
Eyewitness, Martin Stammers, told the BBC that the scene was "absolutely horrendous."  He said that all he could hear was a series of crashing. He managed to get out and for a few moments, all he could hear was an eerie silence and dense fog.
The BBC report stated that all of a sudden Stammers could just hear a lot of screeching of brakes followed by "thud after thud after thud." He described how another woman, who had been talking to him about the accident, had thought after she crashed, others would perhaps be able to see her and stop but that didn't happen. She kept feeling such a continuous stream of knock-on crashes to her car, so much so, that she thought that she was going to die.
The accident seemed to continue and was reported to have gone on for at least 10 minutes, as drivers failed to see the scene ahead and eyewitnesses said that many drivers failed to use their lights.
The crash scene currently extends the length of about a quarter of a mile.
Police are now going from vehicle to vehicle to check their condition and take details and registrations number plates for their reports.  They are attempting to establish the exact cause of the pile up, based on the way in which the cars are piled up at the scene, although they are not saying anything about their findings until the reports are complete.
The carriageway, which leads into London and was carrying hundreds of people on their way into work, has now been closed off while the emergency services and police deal with the incident and will probably not re-open until this evening.
Written by: Brucella Newman
Source 2