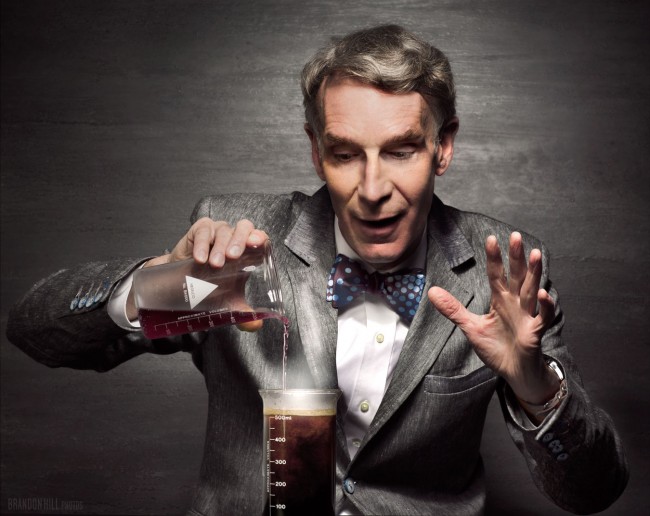 William Sanford "Bill" Nye (A.K.A. Bill Nye the Science Guy) makes his triumphant return to our screens to educate us all on matters of space. Only, this time, it's not our television screens he will be appearing on – it's our computer monitors. The illustrious American science guru is now rolling with the times, producing an eight part YouTube series on all matters space.
Bill Nye's Origins
Bill Nye was born Nov. 27, 1955, and started out working as a mechanical engineer for Boeing, after studying for his Mechanical Engineering degree at Cornell University. It was
here that he gained a thirst for appearing in front of the camera, producing a series of training films for the company. However, even when in high school, Bill discovered he had an aptitude for teaching fellow students about the complexities of mathematics.
One of Nye's most notable contributions at Boeing included development of a hydraulic pressure resonance suppressor, still in use in the 747, which he remains proud of to this day:
"There's a hydraulic resonance suppressor 'Quinke' tube on the 747 horizontal stabilizer drive system that I like to think of as my tube."
Nye ventured into unknown territory, entering look-alike contests (as Steve Martin) and performing stand-up comedy, late at night. Ultimately, Nye began to stray from the traditional path of your average engineer, giving up his job at Boeing altogether. Instead, he began writing comedy and regularly appeared on the Seattle comedy show Almost Live.
Bill shot to fame when he hosted Bill Nye the Science Guy from 1993 to 1998, churning out a vast number of episodes that aimed to teach scientific principles to a preteen demographic; unexpectedly, however, the series gained a large adult audience as well.
New YouTube Space Series
Much to the delight of his many fans, Nye is set to create an eight part YouTube series, discussing space-related issues. The series is entitled Why With Nye, with three videos already having been uploaded on the THNKR: Change Your Mind YouTube channel, and focuses upon NASA's Juno spacecraft, launched from Cape Canaveral on Aug. 5, 2011.
The first video that Nye produced discusses the planet Jupiter and NASA's latest attempts to study the gas giant, by deploying the Juno spacecraft. Nye takes the opportunity to explain Juno's recent flyby of Earth, which took place Oct. 9, 2013. NASA used the Earth to provide Juno a gravity speed boost, helping it to escape the gravitational pull of both the Sun and Earth.
Alas, according to NASA officials, the $1.1 billion mission is currently suffering from technical issues. During the flyby of Earth, Juno had unexpectedly entered safe mode, which the craft is programmed to do in the event that a problem is detected.
Prior to the slingshot event, Juno had been in good condition and was functioning appropriately. Now Juno has switched itself over to safe mode, despite basic communication still being possible, the craft's functions are limited.
Meanwhile, Nye's second video focuses upon studying the inner structure of Jupiter. Juno will not have a perfect elliptical orbit around Jupiter, due to differences in the planet's gravity. By using the Doppler effect to accurately measure Juno's path whilst in orbit, clues about the interior of Jupiter can be inferred from its gravitational pull.
Adopting a more serious attitude, Bill Nye also recently appeared on the Big Think, discussing some of the controversy that surrounds evolution. The video, called Creationism Is Not Appropriate For Children, saw Nye explaining evolution to be "… the fundamental idea in all of life science…" He argues those that deny the principles of evolution were holding the rest of society back:
Indeed, based upon recent actions, Nye is quite serious about engaging future generations in science. Nye is a big proponent of the science, technology, engineering and mathematics (STEM) education programs, and was a guest at the annual White House Science Fair. During the event, the Obama administration announced US2020, an initiative that aims to get companies to relinquish 20 percent of their STEM employees to contribute 20 hours of mentoring, annually.
Ultimately, the news of Bill Nye the Science Guy's return will please many of the bow tie-sporting science aficionado's fans. So, will you be watching Nye's new YouTube series?
By: James Fenner
Bill Nye Biography Link
Philly.com News Link