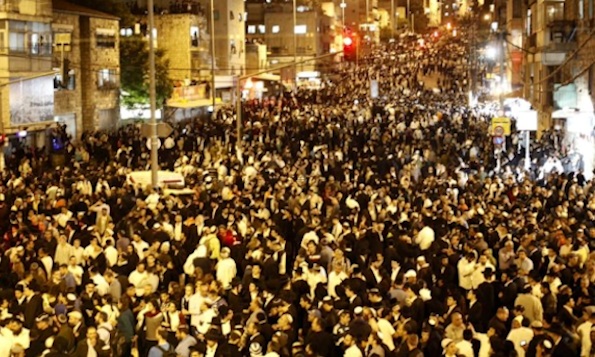 Rabbi Ovadia Yosef died yesterday in Jerusalem.  He was 93.   The former Sephardic Chief Rabbi of Israel, he became the spiritual leader of the Shas political party.  His rulings on Jewish law were masterful, learned and forthcoming.  His political views were conservative and impassioned.  Rabbi Ovadia Yosef was a constant voice and spoke for Sephardic Israelis of all levels of observance.
Rabbi Ovadia Yosef was born in Baghdad, Iraq on September 23rd, 1920.  His family moved to Israel four years later.  Rabbinical ordination came at 20 and he went on to marry and father 11 children with his wife, Margalit, whose death preceded him in 1994.  Living in the Har Nof area of Jerusalem, Rabbi Ovadia Yosef gave weekly lectures until he was hospitalized from a minor stroke in January 2013.
His followers are from all parts of society and condolences have been received from the Arab world as well as Jewish.  While dogmatic in many respects, he was able to rule more leniently in crucial areas that allowed a blending of modern life with ancient traditions.  The Rabbi ruled that the Jews of Ethiopia should be welcomed in Israel, that boys and girls could study together to the age of nine and that unmarried women could leave their hair uncovered.  He successfully worked to solve the trauma of war widows having the right to remarry.  Rabbi Ovadia Yosef was masterful in the arena of Halacha, Jewish law.
As head of the Shas party, the fourth largest political party in Israel, the Rabbi has, since 1984, been a part of the governing coalition, whether the ruling party was Likud, (conservative) or Labor (socialist).  In 2011 Rabbi Ovadia Yosef directed the Shas party's mission statement, "Our role is to fix the continued economic and social discrimination against the Sephardic population of Israel." And he did.
The funeral was the largest ever held in Israel and it's estimated that more than one million people crowded Jerusalem's streets, Monday night, October 7th.  Radio Kol Berama said there were more than a million people, 12% of the entire population of the country.  It is the largest funeral gathering the country has ever seen.  From the most religious, to the least observant, the people whose life he had touched came to pay their last respects.  Rabbis Ovadia Yosef's death was reason for Israelies to mourn.
Crowded on sidewalks, car roofs, trees, walls and buildings, the city was shut down.  The Main Road 1 freeway was closed and the monorail was overfilled.  Thousands walked from their homes to try and view the coffin, which was impossible as well wishers and abandoned cars obstructed its passage and police intervention was necessary.
Prior to the funeral, the Rabbi was eulogized at the Porat Yosef Yeshiva in Geula.  Dozens of speakers, representing Sephardic, Ashkenazi, Torah communities and politicians, paid their respects.  One of the Rabbi's sons, Rabbi Yitzchak Yosef summarized his emotions by explaining, "The heavens of yesterday are not the heavens of today."
The funeral was scheduled for 6pm but started more than two hours late because of people blocking the streets on the journey to the Sanhedria cemetery.  Police helicopters hovered above while hundreds of officers were deployed throughout the ancient city.  Police ordered the crowds to avoid rooftops and antennae as viewing spots.  Miraculously, despite the unplanned event and the huge number that came out, Magen David Adom noted just fifteen were hospitalized.
Everyone had respect for this great leader who has given interpretation and leadership for so many years.  Jerusalem Mayor Nir Barkat issued a statement mourning the loss.  "Rabbi Ovadia Yosef was a part of the Jerusalem landscape for many decades.  He was a spiritual leader, a respected scholar, an influential author and a halachic authority for hundreds of thousands of people in Israel and around the world."
An attendee, Ron Rafaeli, of Ashdod, attended the funeral with a group of friends and explained, "our greatest Rabbi has left us.  He was great because he spoke in the peoples' language and never acted like he was above them.  He acted like he was one of them."  Those who could not attend were riveted to television coverage which ran for more than 12 hours, from early afternoon until late in the evening.
Rabbi Ovadia Yosef's death at 93 has left Jerusalem, Israel and many in the world mourning.  Another of his sons, Rabbi David Yosef, spoke at the funeral and said, "Father, to whom shall we now turn when we have questions about Jewish law? With whom shall we speak? Father! The world cannot continue as before. The sun has set. How shall this generation continue without you? We are orphans now."
By Vicky Judah
Source 1
Source 2