The average tech head will sigh over a phone, wishing they could just buy a nifty keyboard for their touchscreen dominant iPhone. One celebrity made that happen; Ryan Seacrest wanted an iPhone keyboard and invested $1 million to get it. The ever creative mind of the former American Idol host, turned to develop a prototype that is now ready for pre-orders. The keyboard is called Typo Keyboards and it is a simple technology, intended to bring smiles to iPhone users.
The Typo is part case, with an attached keyboard. iPhone users will merely have to slide their phone into the case, sync it and for $99, a keyboard for the iPhone is created. Check out the Vimeo video (linked at the end of this article) that shows how this simple yet incredible this technology works.
The Typo Keyboard is compatible for iPhone 5 and 5S only at this time, but its functionality is one that is unmatched. All Things D states the accessory will be showcased at the 2014 Consumer Electronics Show in Las Vegas. For most, an idea has generated a concept that is sure to draw in consumers. For one Ryan Seacrest? He wanted that iPhone keyboard and was willing to invest $1 million into a development to get it.
The press release for the Typo Keyboards is an engaging one as it states Seacrest was accustomed to carrying two phones; one for typing and his other was his lovable iPhone.  One night as Seacrest was having dinner with friend Laurence Hallier, the illustrious CEO of Show Media, they discovered a nagging issue; two people were surrounded by four different phones. The two started brainstorming and two years later, Typo was born.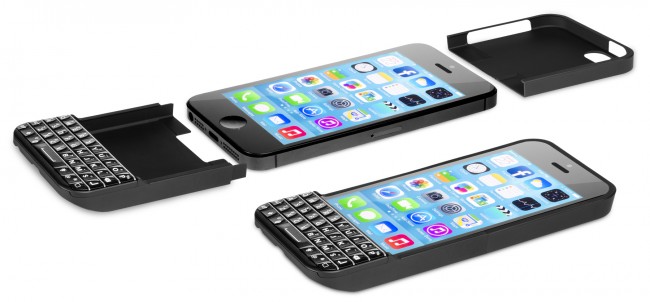 Of course, this leads the pool of BlackBerry owners to scratch their head, considering BlackBerry was making leaps and bounds in development technology. The failing manufacturer has also continued to develop keyboard embellished phones like the Q10. Why two phones? Why not just carry the Blackberry? For many, the reasons may be obvious, for others not so much.
BlackBerry has been a long-time companion for business users (this entrepreneur writer can attest to that), yet they have considerably fallen behind as iPhone rose like a powerful wave. BlackBerry was the phone to have for its ability to handle multiple emails and disburse memos. Then something happened, Apple begun aggressive changes to attract those same business users.
Updates with features relaying to email and the calendar continue, in addition to the simple yet powerful ecology of the iPhone has edged out BlackBerry. Consider the extensive business apps available with a touch through the Apple App store, the growing software and design factor is just well, winning.
Many users enjoy the virtual and digital world of on-screen keyboards, but for millions – they miss the physical presence of that old fashioned QWERTY keyboard. Sadly, with this newly created Seacrest invention, it does leave many in the tech field to wonder what it could do to BlackBerry. It was a quiet mode of gratitude that Apple never created a physical keyboard, but it seems one savvy investor has.
Ryan Seacrest wanted an iPhone keyboard and invested $1 million to get it. Novel idea? Not interesting? Will users flock to the Typo Keyboards? Based on its slated debut scheduled for 2014, it appears a budding fanbase is growing. Thoughts and opinion of the Typo? Share below in the comments.
Angelina Bouc
Sources
Typo Keyboards Video