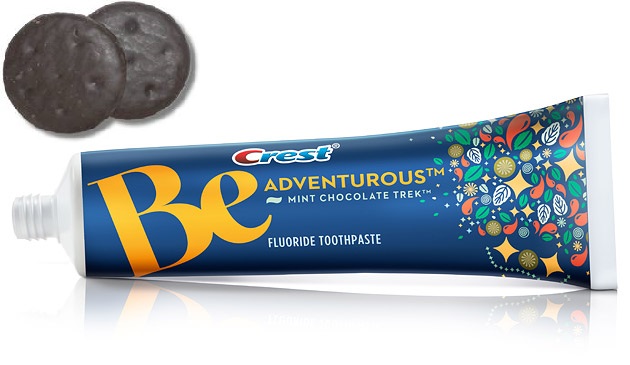 It is Girl Scout cookie season and Crest Toothpaste has no plans to miss out on the chocolate mint craze this year. In February Proctor and Gamble will introduce a few new flavors and mint chocolate tops the list. There are actually three new flavors set to hit the market from Crest Toothpaste's new line up titled Crest Be, the other two are vanilla mint spark and lime spearmint zest.
The number one selling Girl Scout cookie in America is Thin Mints. With all of the new additions to the Girl Scout cookie family mint flavored chocolate still tops the charts. This doesn't slight any of their other flavors because they don't fall far behind. The combination of mint and chocolate has long been a favorite even in other consumable products.
Thin Mints made up 25 percent of all cookie sales in the Girl Scouts of America brand. They sold in excess of 50 million boxes last year to total about 1.6 billion cookies.
This Cincinnati-based company, Proctor and Gamble, plans to join the craze with their line of new toothpaste flavors called Crest Be. They are telling people they need not worry because the dentist will still approve this bold new mint chocolate flavor. The new Crest Be flavors will accompany the rest of the line of toothpaste this brand offers in foundational benefits necessary for oral health. It may taste like a cookie but it will include fresh breath and whitening, cavity protection and cleaning.
Crest Toothpaste is the number two brand in the world for oral care. Currently its market share is 20 percent behind the leading brand, Colgate. With approximately $2.3 billion in worldwide sales they are not doing badly at all. Their goal is to raise that number with their new addition of flavors and along with their primary aim of injecting added excitement to brushing. Jon Moeller, Proctor and Gamble's chief financial officer, mentioned the new line in the quarterly earnings report for last week as an effort to draw new consumers that are adventurous and experiential.
University of Cincinnati's head of marketing, Karen Machleit, said the company is attempting to appeal to brand-switchers who are always in search of something new and different. Having a variety of products is a way of reinvigorating interest in a brand. It keeps their customers from switching.
John Scarchilli, head of Proctor and Gamble's Scientific Communications, said that the new Crest Be lineup may not offer any new elements as it relates to protection but the experience it will deliver to your mouth is unprecedented. Scarchilli said no one expects to find chocolate flavored toothpaste when searching for oral health. It is not the everyday pool of mint flavors that already exist, it goes way beyond that.
Scarchilli said they wanted to provide an answer for those that found toothpaste to be sort of boring, but getting the flavor right was no easy task. Making something the many chocolate lovers in the world would love was difficult. The goal was to hold back the mint long enough to allow the chocolate flavor to be decadent and satisfying. They came up with the use of a technology called proprietary flavoring-and-cooling. This technology allows the mint flavor to be delayed about 30-40 seconds so that chocolate can make the initial impression.
Michelle Lohman, spokeswoman, said in the United States customers should find it in the aisles of the stores within the first week of February. Canadian chocolate lovers need not fret because it will also roll out in Canada shortly after the launch in the U.S.
Consumer advisor for the American Dental Association, Matthew Messina, DDS, said he does not know if the public will actually embrace chocolate as a flavor for toothpaste. What is most important is that people brush twice a day for two minutes with any type of fluoride toothpaste as long as it has the ADA Seal of Acceptance.
Right in line with Girl Scout cookie season Crest Toothpaste introduces a new line of flavors with chocolate mint as the headliner. Lime spearmint zest and vanilla mint spark will also join the Crest Be addition of flavors. Crest has promised these new flavors will be a new world of deliciousness ready to take your mouth on an exhilarating ride.
By: Cherese Jackson (Virginia)
Sources:
Cincinnati News
WTMA News
SF Gate