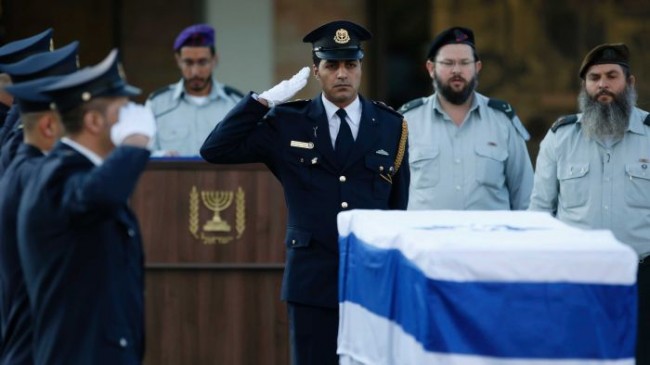 Ariel Sharon, the former Israeli Prime Minister, was laid to rest Monday morning. Sharon had been in a vegetative coma since 2005, and was officially pronounced dead Saturday at age 85.
Thousands attended the funeral services, including high-profile leaders Israeli Prime Minister Benjamin Netanyahu and U.S. Vice President Joe Biden. In a sign of respect, foreign and domestic dignitaries joined in laying wreaths on Sharon's coffin, which was adorned by the Israeli flag. Sharon was buried at Sycamore Ranch, his family estate.
Sharon left a legacy that has been largely praised by nationalistic Israelis. He was well known for his leadership in all of Israel's major wars during the 20th century, including the 1948 War of Independence. He has been described by some as a "war hero" and by U.S. Vice President Biden as essential "to the survival of the state of Israel and the Jewish people." Prior to serving as Prime Minister from 2001 until 2005, Mr. Sharon had served as Minister of Agriculture and Defense Minister. Speaking at the services, current Israeli President Shimon Peres stated Sharon's "fingertips are imprinted on every political and military milestone" in Israeli history.
However, Sharon was widely viewed in the Arab world as an aggressor and war criminal. Most notably, while serving as defense minister during Israel's occupation of Lebanon, he was found indirectly responsible for the massacre of Palestinian refugees by an Israeli-supported Christian militia. An Israeli inquiry into the events found that he could have prevented the militia from entering the refugee camps and slaughtering up to 3,500 civilians. He was subsequently forced to resign as defense minister and was thereafter deemed by some as the "Butcher of Beirut."
A spokesman for Hamas, the governing faction of the Gaza Strip, said, "Our people today feel extreme happiness at the death and departure of this criminal whose hands were smeared with the blood of our people and the blood of our leaders here in exile." A spokesman for Fatah, the rival Palestinian political group in control of the West Bank, stated that Sharon should have been "brought before the International Criminal Court."
In response, the Israeli military issued stern warnings to Hamas and threatened retaliation for any rocket fire during the official ceremonies. A larger than normal police and military presence was noticeable throughout the day.
Arab support was substantial for Ariel Sharon's unprecedented decision to remove Jewish settlers from the Gaza Strip and parts of the West Bank. Although he faced intense domestic opposition to this decision, the move was viewed as instrumental for paving the way toward a peace agreement.
Ariel Sharon's death comes at a time of crucial importance for Israel regarding the Iranian nuclear issue. The U.S. and other powers have agreed to an interim deal to remove crippling economic sanctions on Iran's economy. In exchange, Iran has vowed to curb its uranium enrichment. Sharon was a symbolic figure to many Israelis, and his death comes during a renewed call by members of Israel's political right to increase pressure on Iran.
By Peter Grazul