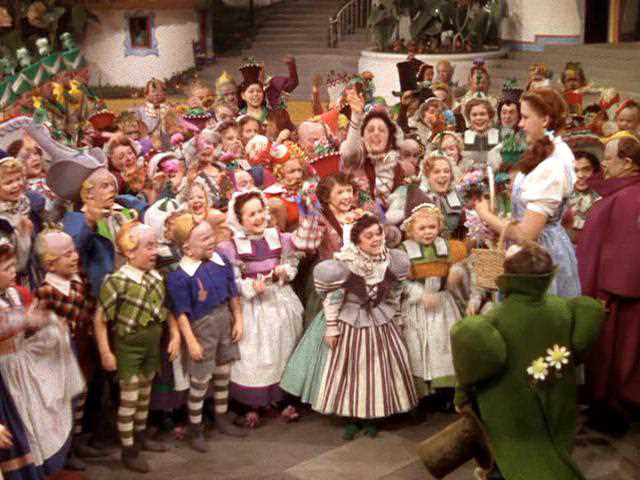 The last female Munchkin, Ruth Robinson Duccini, who was the very last living actress to play one of the iconic parts in the 1939 classic The Wizard of Oz, died Thursday in Las Vegas, Nevada after she suffered a brief illness. She was age 95.
Stephen Cox, who was the author of The Munchkins of Oz and had also been a close friend of the late actress, stated that Duccini passed away of natural causes.
Duccini was an American actress, exactly four feet tall, and was born Ruth Robinson in Minnesota back on July 23, 1918. She met her husband, actor Fred Duccini, who was also considered a little person while she worked at MGM; however he never played one of the Munchkins. They got married in 1943 and ended up living the majority of their lives in Los Angeles. When they decided to retire, they packed up and moved to Bullhead City, Arizona.
She was the second to last surviving Munchkin, the other survivor is Jerry Maren, age 93. Duccini was the last surviving female Munchkin from the film and was also was the oldest one. Her role in the movie as one of the Munchkin villagers did not get credited. In total, there were 124 actors cast as Munchkins in The Wizard of Oz movie.
Duccini also made an appearance in the 1981 movie Under the Rainbow. It was a documentary created about the making of The Wizard of Oz.
Her last major appearance was when she and other surviving Munchkins from the film were given a star on the Hollywood Walk of Fame on back on Nov. 21, 2007.
Duccini stated she never could remember exactly what she earned while filming The Wizard of Oz in 2013. But film records show that the Munchkin village actors received$125 each week during the filming.
During World War II, Duccini worked on warplanes inside a defense plant. She stated that her war work had made her very proud. She declared that she was a real Rosie the Riveter and that gave her a real sense of pride.
Duccini ended up making the news again when former British Prime Minister Margaret Thatcher died and her numerous critics attempted to boost the song Ding-Dong! The Witch Is Dead from The Wizard of Oz on the radio charts to make merry at Thatcher's passing. Duccini and Maren both were noted as saying the movement was absolutely terrible and they each were deeply saddened by how the song they sang while dancing in Munchkinland was attempted to be misused by people in such an awful way.
Duccini and Fred had two children, a daughter and son, both of whom grew to reach normal height. They were named Margaret and Fred Jr. Ruth's husband, Fred passed away in 1994 and Ruth continued to live in Arizona and then moved to Las Vegas in her last few years. She is survived by her children Fred and Margaret, and numerous grandchildren and great-grandchildren.
It is very sad to report that the last female Munchkin, Ruth Robinson Duccini, from the 1939 classic The Wizard of Oz, has passed away at the age of 95.
By Kimberly Ruble
Sources: