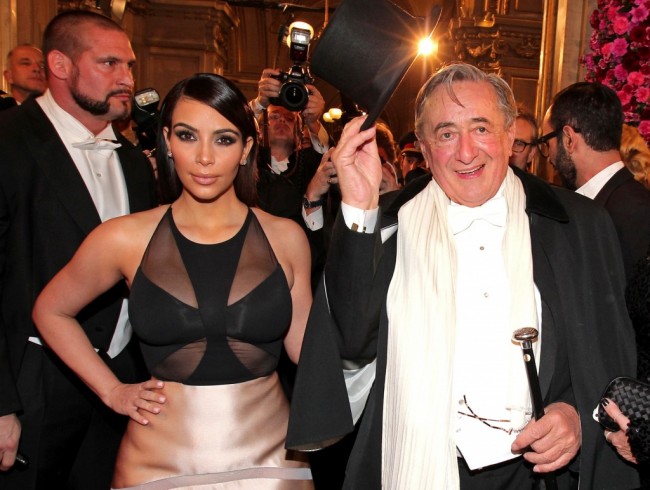 Kim Kardashian stormed out of a Vienna ball after being insulted by a worker there. A white man reportedly walked up to her with a black face and pretended to be fiancé Kanye West.
The ball was supposed to be a fairly relaxing but glamorous evening for the reality TV star. She escorted Richard Lugner to the Viennese State Opera House on Thursday evening. The 81-year-old reportedly paid her $500,000 for her company at the ball, but she now believes that he was involved someway in the disgusting stunt.
A source informed the New York Daily News that Lugner had tried to get Kardashian alone and was making crude comments during the evening. However, it was the stunt with the employee that caused her to storm out. She attempted to remain civil as possible for the majority of the event.
At first, an employee walked up and pretended to be her fiancé. While she found it offensive, she brushed it off and continued in a professional manner. Later in the evening, the man—or another employee, according to the Daily News—approached her asking her to dance. While he was still in the black face, it was the request to dance to Ni***rs in Vienna that made her angry. It was a reference to the hit Ni***rs in Paris by West.
Kardashian stormed out of the Vienna ball as soon as she could. She knew that she was under a contractual agreement and remained to fulfill that, proving her professionalism. It was Lugner who came off unprofessional and rude.
According to TMZ, the Austrian businessman gave an interview saying that his date had refused to "stick to the program" and was annoying him.
Much of the night was being filmed for the Kardashian's reality show, but it is unclear just how much was caught. Throughout the night, Lugner was making crude comments and repeatedly tried to grab his date. The 33-year-old also said that he repeatedly acted aggressively throughout the night. There were also claims that he wanted her to lose her security for some of the night.
She was just glad to get out of there as soon as she could. It's a shame, because it may have been an interesting and useful networking night for her otherwise. Luckily, her mother, Kris Jenner, was there with her and left at the same time as her.
Kardashian has better stuff to worry about, with her upcoming wedding. There is still little being shared about that, but recently reports are that she wants it to be small and intimate. The prenup negotiations have been the main focus lately, with West wanting more children to be stipulated. The reality TV star seems to be giving into his request, saying that she does not want her daughter to be raised as an only child. She knows how much fun having siblings is.
While she had fun with her siblings growing up, she's proving that she does not need them. Kardashian handled her Austrian date with professionalism, only storming out of the Vienna ball once her contractual obligations were finished.
Opinion by Alexandria Ingham
Sources:
New York Daily News
TMZ