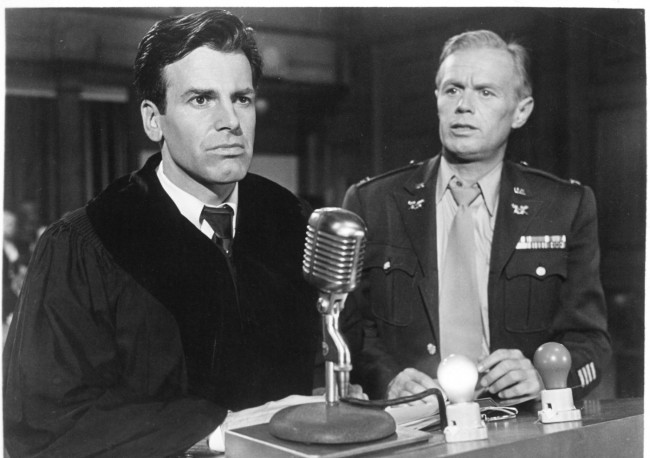 The dashing, Oscar-wining actor, Maximilian Schell, died of pneumonia on Saturday at a hospital in Innsbruck, Western Austria. He was 83. He collapsed as he worked on a television production for German channel ZDF. His wife, Iva, was at his side until the end. The actor won Best Actor at the Academy Awards for his portrayal of defense lawyer, Hans Rolfe, in the film Judgement at Nuremberg . The film was released in 1961, and also starred Burt Lancaster, Marlene Dietrich, Judy Garland and William Shatner. Schell spoke warmly, but briefly, when he received the award. He recalled in his comments a customs official who questioned him when he first arrived in America. When the official asked him what he was doing in the US, he spoke candidly saying he was there to do a film. The official wished him luck, which he noted had come to fruition with the win.
After his hit with Judgement of Nuremberg, Schell continued to work hard in Hollywood. The rising star appeared in The Odessa File in 1975 with a young Jon Voight. He is rumoured to have been made godfather to Angelina Jolie at this time. He is quoted as saying that he recalls holding the baby Jolie in his arms, but that she would probably not recognise him now. He then went on to star in The Man in the Glass Booth, for which he received another Oscar nomination. In the latter part of his acting career, he was often saddled with playing the stereotypical evil Nazi. Schell stated in an interview in 1975 that he believed this to be a pattern with his roles.
The era of the third Reich was one of personal significance for Schell. His family fled the regime, escaping to Switzerland when the Nazis took control of Austria. Schell was born in 1930 in Vienna to an artistic Roman Catholic family. His father was a known poet and his mother was an actress herself. His sister, Maria, has her own illustrious acting career.
Maximilian Schell worked in the acting industry until the end of his life. He had his acting debut in Kinder, Mütter und ein General (Children, Mother and a General) in 1955 when he was 25. He took multiple German film roles until 1958, when he left Austria for the US. Marlon Brando took the young star under his wing when the two appeared in Young Lions later that year. Schell has since stated that his English level was poor, and he felt indebted to Brando's kindness. His last film, a French language project entitled Les Brigands, is set to come out later this year. He is noted for a great performance on the stage in Hamlet, and appeared in many high-profile titles. He also directed opera and films later in life, most notably a documentary on Marlene Dietrich who he called "extremely funny." Schell spoke warmly of his time in America stating he was a number one fan. He then added that he had liked American food, "especially corn flakes."
Maximilian Schell reportedly said in an interview that he did not have a job. Instead he saw himself as meandering through life and art at will. However, the legacy that he leaves behind him shows that to be otherwise. He had an international following until the end, and one he worked hard for beyond the years of usual retirement.
By Sara Watson
Sources: