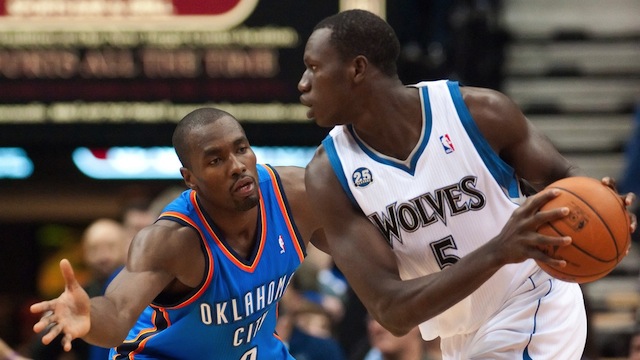 It's always tough to be a rookie. Some players are immediately given an opportunity to contribute to the team while others are never given the chance. However, when starting Minnesota Timberwolves center Nikola Pekovic went out with an ankle injury, rookie replacement Gorgui Dieng was inserted into the lineup and ever since has proven to be a surprise success in the final leg of the season. It's just too bad the Timberwolves didn't realize his capabilities sooner.
Dieng came to the Timberwolves in last year's draft after Minnesota traded their 9th pick to the Utah Jazz for the 14th (Shabazz Muhammad) and 21st (Gorgui Dieng). While at Louisville, Dieng put up decent stats of almost a double-double per game in his final season where he averaged 9.8 ppg, 9.4 rpg and 2.5 bpg with only 2.6 fpg. Pretty solid numbers for a center, which distinguished himself as a defensive force.
However, coming into his rookie season, the Minnesota Timberwolves already had center Pekovic, veteran Ronnie Turiaf and even had a stretch where they played all-star Kevin Love at center. As a result, Dieng didn't see much playing time, and as a result has an average of 9.9 mpg that has resulted in 3.0 ppg, 3.8 rpg and only .63 bpg. Not great stats for a guy who showed promise in college.
However, ever since Pekovic has been sidelined due to his ankle injury, coach Rick Adelman has given the center from Senegal a chance. As a result, the Minnesota Timberwolves while still not consistent have had a surprise resurgence, which has a lot to do with the success of Dieng.
Starting on March 16, he got the chance of a lifetime by playing 37 minutes, when he hadn't played more than 12 minutes in any game all season. While playing those increased minutes, Dieng had 12 points, 11 rebounds, five blocks and only two fouls in a Timberwolves win over the Kings.
Most probably thought Dieng's performance against the lackluster Kings was a fluke. However, he proved his detractors wrong when he had 10 points, 11 rebounds and one block but with four fouls three nights later in a win against the playoff hopeful Dallas Mavericks.
It didn't stop there though. While the Timberwolves got annihilated by the Houston Rockets, Dieng proved he could put up huge numbers against a solid team with 22 points, 21 rebounds, four assists, a steal with only three fouls.
While he had a mediocre game against Phoenix, he has continued his successes with this run by averaging 12.6 ppg, 14.0 rpg and 1.0 bpg, 1.0 spg and only 2.7 fpg since averaging almost 30 mpg.
By comparison, Nikola Pekovic is averaging 17.7 ppg, 9.0rpg, .45 bpg, .55 spg with 2.4 fpg. While it can be argued that Pekovic is a better scorer, Dieng has only been used for seven games predominantly, and one of those games he scored 22 points. Needless to say, he has it in him to be a scorer as well. More importantly though is the fact that Dieng is a much better defender and rebounder.
Why bring this up? There are rumors floating around that Pekovic will be playing in tonight's game against the Lakers, and considering how injury prone he is and how much of a roll Dieng is on, it seems like it would be a mistake to play the Yugoslavia native instead. Dieng deserves to be the Minnesota Timberwolves starting center at the end of the day due to his surprise success as of late. The only question is will he continue this solid play through next season or will he be benched? If Adelman is smart, he'll put him as the starting center.
Commentary by Simon Mounsey
Sources:
Yahoo Sports
Yahoo Sports
Canishoopus
Sports Reference
ESPN