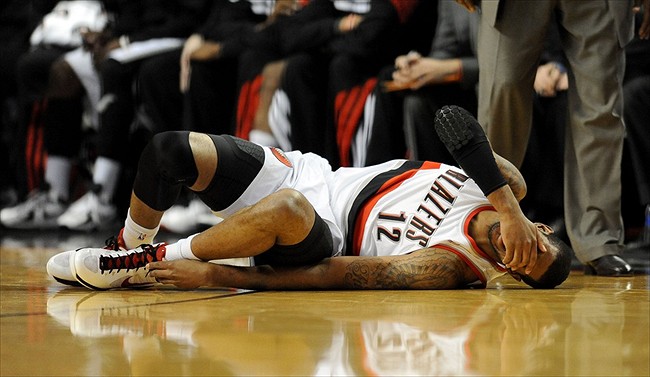 Much like the past number of years, injuries have been commonplace in the world of professional basketball during the 2013-2014 season. Some teams like the Oklahoma Thunder and San Antonio Spurs have been dealt massive blows to their squad, yet they have defied the odds with a fantastic season. On the other side of things, some teams like the Portland Trailblazers have been weakened by their injury woes. While it can work doing the regular season, for a team to have hopes for a playoff run, NBA injuries will be a determining factor in teams extending their postseason.
To really analyze how injuries will affect teams during the offseason, it's best to analyze some of the favorites to win the championship this season.
The Western Conference
The Western Conference is about as competitive as it has ever been with only a few games separating the majority of the teams. Despite how close the teams are, there have been a number of  affected teams who have added to the list of NBA injuries.
San Antonio Spurs
No matter what season, no matter what injuries the Spurs have, they never go down without a fight. The Spurs have missed games from all of their big three that includes Tim Duncan, Tony Parker (various injuries) and Manu Ginobli (hamstring), yet they sit at the top of the west with a 51-16 record. Part of the reason for this is due to Popovich who is a master adjuster in-game and the fact that the Spurs have one of the deepest rosters in the league.
That said, the Spurs will be in trouble if they do not have all their guys on the floor. Both Tony Parker and Manu Ginobli have played 56 games, while Tim Duncan has played 62 out of 67 games this season. While Ginobli is a great player and probably one of the most unpredictable players in the game, he is the only one of the big three they can do without. There are players that can fill his void, especially when he's only scoring 12.6 ppg this season. However, they simply cannot beat many playoff teams without Parker and Duncan. Tony Parker runs the offense and is their scoring and assist leader. Without him, the system is broke. Without Duncan, they lose their size and if they run into the Dwight Howard or Blake Griffin without him, they don't have much to combat it. Then again, the Spurs have proved skeptics wrong before.
Oklahoma City Thunder
The Thunder can arguably be considered the best team in the NBA and a favorite to win the title. Having said that, the injury plagued number two option on the team, Russel l Westbrook (knee), has increased the load of Kevin Durant as well as other role players on the team. Simply put, having a guy averaging 21.4 ppg, 5.8 rpg and 7.2 apg is going to hurt a team.
While Durant has been able to carry the team on his shoulders to a 24-8 record without Westbrook, being able to fend off teams like the Spurs, Clippers, Heat or Pacers in a seven game series is going to be incredibly difficult and most likely impossible. Yes, Reggie Jackson has done a decent job averaging 13.1 ppg, 3.8 rpg and 4.0 apg; however, he is no match for the likes of the big guns when it really matters. At the end of the day, in order for the Thunder to keep their championship hopes alive, they need Westbrook.
Los Angeles Clippers
The Clippers have a history of injury problems. It might not be as great as the Portland Trailblazers though. Having said that, they have racked up the injuries this season. Beyond their leader Chris Paul (thumb and shoulder) being out for 19 games, backup guard Jamal Crawford (calf) has been out eight games, shooting guard J. J. Redick (back) has missed 39 games, Matt Barnes (retinal tear) 19 games and even new recruits Glen Davis and Danny Granger have missed several games this season.
Fortunately for the Clippers, they have the depth to combat some of these injuries. However, they simply cannot win this year if they lose Chris Paul who is averaging 18.7 ppg and a league high 10.9 apg. The offense runs through him; in addition he is one of the best defensive guards in the league. Beyond Paul though, the Clippers are in a very dangerous situation. J. J. Redick who was averaging 15.7 ppg is most likely out for the season, while many of the others could break down at any point in time, especially backup Danny Granger who has only played 42 games the last three seasons. Most likely the Clippers will find themselves having an injury or two, the question is to who and for how long? They have a very good chance at winning it all, but if the injuries become too much, they will fall in the playoffs.
Houston Rockets
The Rockets were one of the most talked about teams in the NBA during the offseason thanks to the signing of Dwight Howard. Despite some rough moments though, they have managed to put together a great season at 46-22. However, they have been injury plagued throughout. James Harden (elbow), their leading scorer with 24.6 ppg has missed eight games, Chandler Parsons (knee) at 16.1 ppg has missed six games, role player Jeremy Lin (back) who is their leader in steals has missed 10 games, Patrick Beverley (hand) averaging 10.0 ppg and 1.5 spg, has missed 18 games and Dwight Howard (ankle) averaging 18.6 ppg and 12.4 rpg has recently missed two games. That's a lot of injuries for an NBA team and if they have hopes for a playoff run, their health may be a determining factor.
Harden is their leader first and foremost and without him, not only will they struggle without his shooting, but they'll miss his playmaking ability as well. Patrick Beverly and Chandler Parsons are starters who serve as the third and fourth options on the team. Additionally, Beverly is a defensive specialist. Dwight Howard who has years of injury problems is needed as much as Harden. He is their defensive leader as well as leading rebounder and can be virtually impossible to stop at the rim. Asik is a decent replacement with an average of 11.9 ppg and 6.2 rpg, but they need Howard. This is a team that has played really well this season, but considering the volume of injuries they have, it could get derailed fast especially if Howard or Harden can't play.
Portland Trailblazers
Ever since the 2007-2008 season when they drafted the often-injured center Greg Oden, the Trailblazers seem to be cursed by injuries. Brandon Roy, Marcus Camby, Gerald Wallace and even ex-coach Nate McMillan are just a handful of the personnel who have been injured through the years. Another name is their current franchise player Lamarcus Aldridge (back contusion). Unlike other teams in the league, this injury has hurt the Trailblazers tremendously. At one point in the season they were at the top of the West, but ever since injuries have kept their star player on and off the court, they have been going in the wrong direction.
What's his impact? For starters, Aldridge leads the team in ppg at 23.4 and rebounds at 11.1. He's only been out nine games this season, but the Trailblazers have only won approximately half of those games. While the Trailblazers started to falter before his injury, they've only gotten worse in his absence. Robin Lopez has been solid in making up rebounds, but he doesn't have the all around play and leadership that Aldridge has. If they plan on making a splash in the postseason, they'll need Aldridge. If not, they might be looking at a first round exit.
The Eastern Conference
Unlike the Western Conference, the Eastern Conference has been about the worst it has ever been. On paper it looks like the only teams in the East who should have playoff hopes are the Indiana Pacers, Miami Heat and maybe the Chicago Bulls, thanks to an increase of NBA injuries.
Indiana Pacers
One of the things that have helped the Indiana Pacers stay not only on top of the Eastern Conference but on top of the NBA standings most of the season, is that they haven't had much in the way of injuries. Geroge Hill has been out five games due to a shoulder injury, backup point guard C.J. Watson has been out eight games due to an elbow injury and that's about it.
The only problem the Pacers may potentially have is that of infamously injured center Andrew Bynum, who they picked up after the Cleveland Cavaliers waived him. Bynum who has actually played quite well for Indiana, averaging 11.5 ppg and 9.5 rpg didn't play a single game last season, after being limited to 60 games the season before. He also is considered one of the more immature/irresponsible players in the league after injuring his knees further last season while bowling during recovery. Bynum can bring the Pacers closer to a championship when he is on the court; otherwise, they're going to have to rely on the inconsistent Roy Hibbert.
Miami Heat
The defending champions are also one of the most injury-plagued teams in the league, considering they also have a number of old and injury prone players on the squad ranging from Dwayne Wade (foot) and Ray Allen (shoulder) to Udonis Haslem (hamstring), Chris Andersen (back) and often injured center Greg Oden (legs).
Obviously for the Miami Heat to get a three-peat, they need all three principle players healthy. James and Bosh have only been injured a few games this season. However, James is currently out with a back injury; having said that, he will most likely play hurt in a worst case scenario in the playoffs. The biggest problem the Heat will have is Wade who is showing is age by frequent injuries, which have caused him to miss 18 games this season. While the other players on this team help the stars, they have enough depth to carry on without players like Haslem and Oden. If they lose any of the big three, expect Miami to get upset in the playoffs.
Chicago Bulls
The Bulls struggled tremendously throughout the first half of the season, having lost their MVP Derrick Rose (knee). Since that time though, the Bulls have put together an excellent team especially Joakim Noah who has taken on a new role as ball handler and has put up many triple doubles as of late. The only major injury problem beyond Rose this season is backup guard Jimmy Butler (toe) who has missed 15 games this season. Butler of course is averaging 12.9 ppg.
With the Miami Heat and Indiana Pacers struggling as of late, the Chicago Bulls could very well slip inside the playoff race. Butler, while a great addition, shouldn't affect them if they get hurt. However, an injury to Noah who is averaging 12.3 ppg, 11.3 rpg and 5.0 apg must stay healthy if they want to compete.
The regular season is a long and grueling one due to NBA injuries. As a result, many players get injured, which can have a huge impact on certain teams' chances of winning it all. Nevertheless, it should be interesting to see how injuries will factor into the cream of the crop in the NBA and as a result, determining the hopes for many playoff teams.
Commentary by Simon Mounsey
Sources:
Yahoo Sports
Mavsblog
Bleacher Report
Yahoo Sports
ESPN
ESPN
Yahoo Sports
ESPN
Yahoo Sports
ESPN
ESPN
ESPN
ESPN
ESPN
ESPN