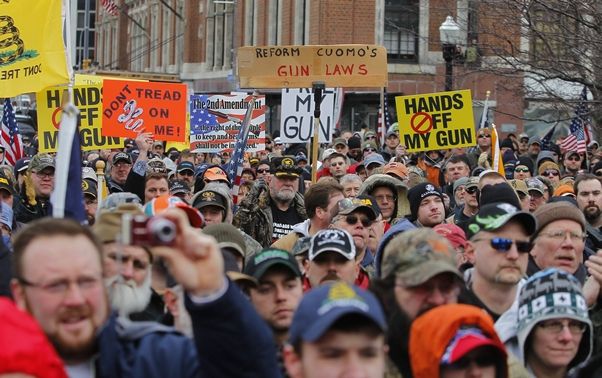 Members of a New York gun rights group met on Sunday in Saratoga to express their displeasure with gun control laws by burning registration papers in protest. The event was put on by an organization called the NY2A Grassroots Coalition, who along with all those in attendance burned close to a thousand registration forms. The law that has so many gun lovers up in arms is the SAFE Act, which requires residents in New York to register assault weapons with law enforcement.
The event was more than just an exercise in civil disobedience. The New York gun rights activists also conducted a workshop on how to make changes to AR-15 rifles in order to make them legal. One individual, Lisa Donovan, who helped to organize the event, said that part of the reason for the rally was to educate people on the dangers of registering your weaposn with the government. According to Donovan, once you turn in the papers, you are opening the door for the government to come and confiscate your guns.
The SAFE Act has a deadline of April 15, and if individuals fail to register their weapons there will be penalties involved. This is why the New York gun group decided to burn registration papers in protest. Many in attendance believe that the law is a violation of the Second Amendment of the Constitution, which guarantees individual citizens the right to own firearms for protection.
Most gun control laws, such as this one in New York, are the result of overreactions to violent shootings, particularly those that take place in schools. While these crimes are heinous, the trampling of civil liberties in society is never the correct way to deal with the crazed actions of a small group of people. Not to mention the fact that banning guns or creating super strict gun laws does not actually reduce violent crime. The argument has been made time and again, but the fact of the matter is that criminals are not concerned with the law, and so the majority who use their guns to commit crimes do not purchase them from a legitimate retailer. These individuals purchase weapons off the black market.
One of the most frequently made arguments that gun control advocates make is that the Constitution only calls for weapons to be owned by the military, or "militia," not individuals. This is a wrong interpretation of the Constitution, and also demonstrates a flawed view of the idea of natural rights. The rights of a human being belong to him or her on an individual basis, not in a collective group. The right to protect onself from harm is inherent in your nature as a human, which is why this is a "natural right." Since all natural rights apply to every human being on an individual basis, the logical conclusion is that the Second Amendment was designed to protect the right to bear arms for every individual who is a citizen of America.
The intent of the Second Amendment, which these New York gun groups understand clearly, is not only to protect people  from murderers and thieves, but from an out of control government as well. If one studies history, plenty of examples will pop out as a demonstration of this truth. One of the first things Hitler did when invading a country was to remove weapons from the general population, making it impossible for these individuals to fight back against their oppressor. This happened during the founding years of our country as well. The Founding Fathers understood that big, oppressive government would always be a threat to our freedom and well being, so they made a provision that enabled average citizens to have arms and ammunition to fight against tyranny and preserve our liberty.
So far there have been fewer than 3,000 assault weapons registered, out of an estimated number of 1.2 million, according to experts in the gun industry. This figure demonstrates that gun owners understand this legislation is an encroachment of their Constitutional rights, and they are willing to face the consequences of not following through with obedience to an unjust law. Will politicians in New York hear the message this gun group is sending when they burn registration papers in protest of an unconstitutional law?
Editorial by Michael Cantrell
Follow Michael Cantrell on Twitter
Sources
Saratogian
Syracuse.Com
PostStar