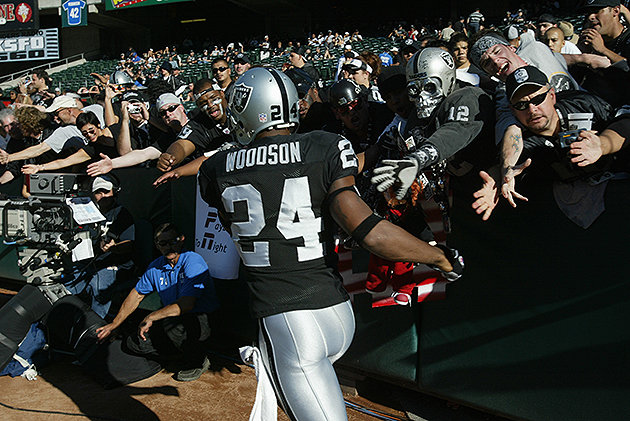 With the most cap room to spend in free agency estimating over $60 million in cap room, Oakland seems to be in prime position to make a few prize acquisitions as the market opens today for free agency this afternoon. The Raiders have key positions to fill on both the offensive and defensive sides of the ball, either now or in the draft. Oakland has already been rumored to be in the offensive tackle market after potentially losing out on their own offensive tackle, Jason Veldheer. Other key names the Raiders may lose in free agency includes their highly sought after defensive end, Lamarr Houston and veteran secondary player, Charles Woodson. Woodson may have played his last season in his pro bowl career but the Raiders may be able to talk him out of retirement if they choose to do so;
his veteran presence in the locker room is almost irreplaceable.
Once again for the NFL Draft Daily, we find another team that is vying for a new quarterback, whether if its through the draft or free agency. Terrelle Pryor showed flashes of potential when he played, but is more comfortable trying to make plays with his feet then his arm. Matt McGloin was not much better as he proceeded to throw eight interceptions compared to five touchdowns in the Raiders five game losing streak to end the season. Oakland may be in the market to bring in a veteran quarterback through free agency, and may still even draft another one, to have the veteran mentor the draft pick for the next few seasons. That seems to be an approach a few teams are going to consider, with both the Minnesota Vikings and Jacksonville Jaguars signing their veterans back at reduced contracts. A few names still available on the free agent market are guys like Michael Vick, Josh McCown, and Josh Freeman. Whether if any of those options for the Raiders are an upgrade or not is still to be seen; but still may be an option in play for General Manager, Reggie McKenzie.
Rumor has it that Oakland may be looking at top defensive back, Darrelle Revis, if Tampa Bay decides to release their pro bowl corner. It also is still yet to be seen if the Raiders will decide to bring back often hurt running back, Darren McFadden. McKenzie has stated he is going to allow his former back to test free agency and figure out what his market value is before he talks with McFadden's agent again. More then likely the market will not be huge for McFadden, the highly touted running back out of college has yet to play more then 13 games in his six year NFL career. With many rumors floating around and the Raiders staying seemingly mum on their intentions, things may get a little interesting in the black hole. The NFL Draft Daily covered a few leads, now all the fans need to just sit and wait to see what kind of moves McKenzie will have in store. Free agency frenzy will be getting under way, and the Raiders plan on being a major player in the AFC.
This article is one in a series, published daily, which provides analysis, insight, and predictions leading up to the NFL draft and beyond. 
Commentary by Justin Huffman
Follow Justin Huffman on Twitter @JHuffman_GLV
Sources: