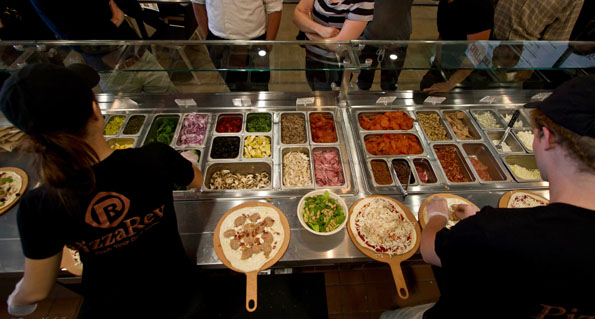 Pizza is the hot new restaurant food in many parts of the country. No, not the traditional pies Domino's and Pizza Hut feature. The "in" thing is fast-casual pizza places that have reinvented the concept with design-your-own pizza quick-cooking options.
Studies report that 41 percent of Americans typically eat pizza weekly as opposed to 26 percent a few years ago. Now, with the number of "better pizza" chains spreading throughout the country, even more people will undoubtedly be picking pizza in the future. The appeals of the new chains include lower prices, gourmet toppings, and quality ingredients. They offer simple casual dining rooms and assembly-line type counters, similar to Chipotle or even Subway, where the customer walks along and points out which ingredients should adorn the pie in progress.
Once the masterpiece is complete, the pizzas are speedily baked in a super-hot oven that delivers a fresh pie in two to three minutes. This helps ensure that the chains get a lunch crowd, where neighborhood workers cannot spare a long wait time, as well as a dinner one. Most of the chains also offer salads and limited other options. Generally, they have some pre-designed pie selections or allow customers to pay a fixed price for a vast selection of toppings. Those that offer vegan cheese (Blaze, Pizza Rev and Uncle Maddio's) charge extra for that option.
Fast-casual restaurants are a growing area. They combine quick ordering and casual dining, with healthier options and more quality ingredients than traditional fast food places for a little more per meal. The concept has worked well for Panera Bread, Chipotle, and Five Guys. Around the country, entrepreneurs are trying to prove that fast-casual concept can be reinvented and applied to pizza with places with opening all over.
Here are some of the made-to-order pizza chains that are part of this growth niche vying for dining dollars:
Blaze Pizza has locations in Southern California, Illinois, Indiana, Michigan, and Wisconsin with ones set to open this Spring in Kentucky, Maryland, New York and Ohio. Founded by Rick Wetzel or Wetzel's Pretzels, the chain is reportedly backed by celebrity investors like LeBron James, Maria Shriver and Boston Red Sox owner Tom Werner.
MOD Pizza started in Washington and now has locations throughout state, with some in Oregon and California. MOD has 11 house pizza options or the build-your-own option. They also offer a selection of "knots," besides the traditional garlic ones, including strawberry, cinnamon and chocolate.
Pizza Rev has eight Southern California locations right now, but have eight more in development, along with locations scheduled to open in Minnesota, Missouri, Nebraska, North Dakota, South Dakota, Texas, and Utah. They offer a variety of salad choices and dessert pizzas.
Pieology Pizzeria is currently throughout California and in Colorado, but has locations in Oregon and Utah opening soon. Of the chains, they seem to have the most limited topping selection.
Pizza Studio is in Southern California, Minnesota and Phoenix, AZ. This chain, which reportedly was the first to open in Los Angeles in 2012, offers a variety of crusts and roasted vegetables, besides the more traditional options. They also have a variety of seasoning that can be added, such as Old Bay and Jamaican Jerk.
Toppers Pizza is currently in Arkansas, Illinois, Indiana, Kentucky, Michigan, Minnesota, North Carolina, Nebraska, Ohio, Texas and Wisconsin. This chain has some interesting pre-designed pizza choices besides the self-built option. One difference here is that the pizzas can be made in a variety of sizes. Also, Toppers has nine types of chicken wings and an assortment of bread sticks (including chocolate-drizzled).
Uncle Maddio's Pizza Joint has several locations in its native Georgia, as well as stores open in Florida, Kentucky, North Carolina, South Carolina, and Tennessee. Other locations are in development. There is a large selection of salads and this is the only chain, at this time, with a large sandwich selection.
800 Degrees was started by the founder of Umami Burger. They have locations in the Los Angeles area (including LAX) and two opening in Las Vegas in April. 800 Degrees has more variety in meat/fish toppings, including some like rock shrimp and clams. Unlike the others, though, 800 Degrees does not allow unlimited topping choices. Customers pay for each topping here.
While it remains to be seen if the pizza as reinvented in these new fast-casual chains will be a passing fad or have staying power like the other places in the genre. What is great is have more speedy dining options for value-conscious consumers who do not have time or the budget today for sit-down dining.
By Dyanne Weiss
Sources:
TIME
LA Eater
Pasadena Star News
Chicago Eater
L.A. Business Journal
Each chain's Web site